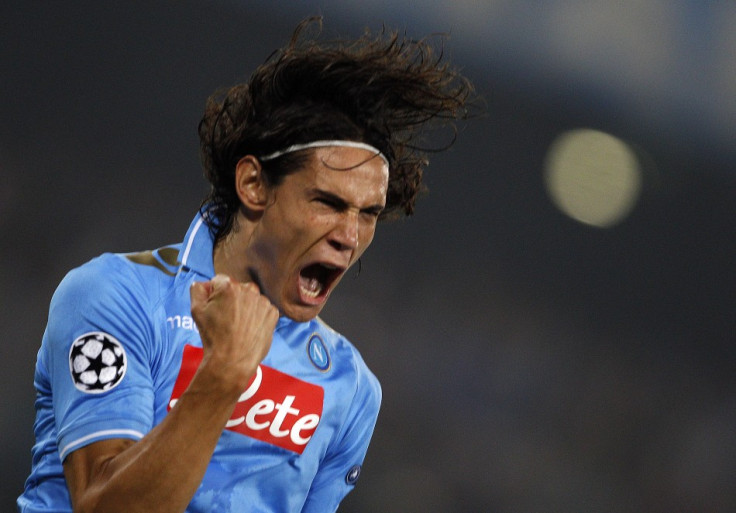 Edinson Cavani is now a target for Chelsea as well as Manchester United, according to numerous sources, with the striker set for a very busy January as he weighs up his options ahead of a possible move to the Premier League.
Cavani has starred for Napoli since moving to the club from Palermo in 2010, scoring 35 goals in 49 appearances so far. He has been credited with helping the Serie A side progress through the Champions League group stages, and the club look a serious threat to trophy contenders Chelsea with the star on board.
Manchester United have been linked with Cavani on numerous occasions, and while Ferguson has a large amount of striking options, the 24 year old's performances have still been monitored by the legendary manager.
And after United lost to Newcastle last night 3-0, squandering an opportunity to keep a tight grip on the title race with Manchester City, the side look more in need of scoring power than ever, and January might be just the right time for Ferguson to bolster the squad and push City for a place.
Cavani is proven to be able to step up against the Citizens, and scored both goals as Napoli defeated them 2-0 to throw City out of contention for the final 16.
But the Daily Mail now claims that Chelsea are also scouting Cavani, and have watched the star five times so far over the last year, keeping a close eye on whether United make a formal move.
Chelsea would be more willing to fork out the £35 million for Cavani's signature, but as United continue to produce lacklustre results, Ferguson may become more desperate to build on his squad.
Napoli and Cavani have both insisted that the player is not going anywhere this January, but he could realistically be a summer target, particularly if Napoli are knocked out of the Champions League and don't qualify for next season's tournament.
Cavani's performance against Chelsea when the sides face off in February will be a real test for the hitman, and United will no doubt be looking closely at the game to see how he, alongside other targets Ezequiel Lavezzi and Marek Hamsik, perform against some of England's best.