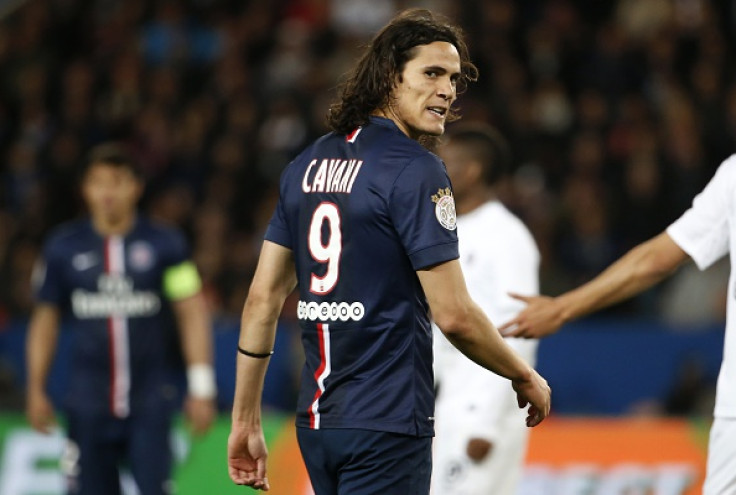 Manchester United have opened talks with Paris Saint-Germain striker Edinson Cavani as the striker expressed unhappiness yet again after being played out of position to accommodate Zlatan Ibrahimovic in his preferred centre-forward position. The Uruguayan forward has been linked with a move away since last summer, but the club are reluctant to sell him.
According to the Manchester Evening News via French publication L'equipe, the Red Devils have offered him an escape route, but the report claims that the Ligue 1 club will still be reluctant to let the free-scoring forward go. Despite being played out of position, the former Napoli star has scored eight goals in 13 league appearances thus far.
The 28-year-old forward has expressed his displeasure a number of times, but was promised a more central role by manager Laurent Blanc. Cavani started the season in his preferred role, but since the return of Ibrahimovic to the starting XI, he has constantly been deployed on the left wing. The Uruguayan international has made 19 appearances in all competitions this year, but has been played as a centre forward on only five occasions leading to the striker's displeasure.
According to Le10 Sport, the striker's future at the club could depend on PSG's summer activity to replace Ibrahimovic, who is likely to leave the club following the expiry of his contract at the end of the campaign. The report claims that the arrival of Cristiano Ronaldo could boost his chances to reclaim the central role, while a move for Robert Lewandowski could see Cavani look for a move away from the club.
Louis van Gaal is looking to add a proven forward to his side after seeing his team struggle to score goals this season. Wayne Rooney has looked off colour, while Memphis Depay and Anthony Martial are struggling to adapt to the Premier League, despite the latter making a blistering start to his Old Trafford career.
The striker, meanwhile, was also unhappy with the manager for substituting him after 79 minutes, despite scoring a goal, during their win over Troyes in the league, and the manager confirmed the striker's feeling following the game. But the manager defended his decision, admitting that he was looking to rest the striker for the next game as they had already sewn up the game by that point.
"Cavani unhappy? He said he was not happy to leave. But he does not know that I already think of the next match. The players are selfish, I know, I was a player. But it will get better tomorrow. He wanted to stay on the field and score goals. 4-4-2 Why? There are people who wanted and needed to score goals. I'm happy for Edi, who scored in the central position after we came back to 4-4-2. But the important thing was to score," Blanc said, as quoted by French publication Le10 Sport.