Real Madrid are preparing a bid for Sevilla midfielder Geoffrey Kondogbia, according to Marca. The 20-year-old France U20 international has also been linked to Manchester United and Chelsea.
Kondogbia, who made an impressive 31 appearances in all competitions last season, in his debut season in the Spanish top flight, has also found himself connected to Manchester City and Arsenal.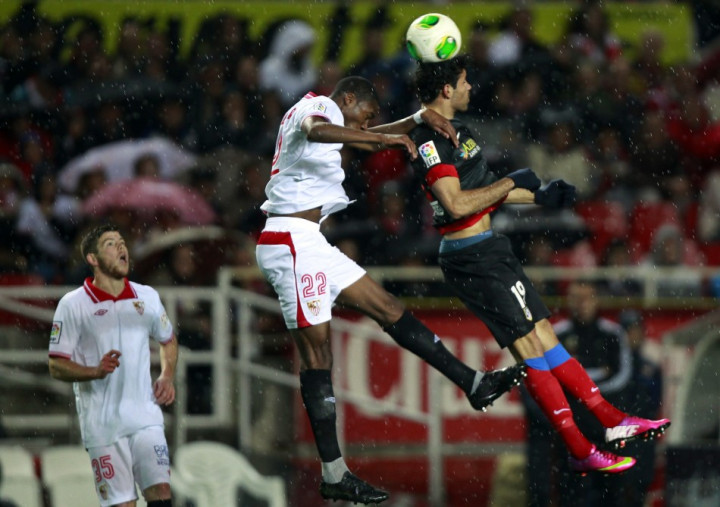 The Santiago Bernabeu club have already confirmed the arrival of one central midfielder this summer, with Malaga playmaker Isco expected to be unveiled to the press next week. The Spain U21 international cost Florentino Perez a reported €23m and was strongly linked to City before Madrid announced the capture.
Kondogbia could be part of a revamping of the capital side's central midfield line-up for the new season, with uncertainty still surrounding the future of Spain international Xabi Alonso. Isco, Sami Khedira and Kondogbia could become key players under new manager Carlo Ancelotti.
City, meanwhile, have also made an addition to their central midfield, with Brazilian Fernandinho signing for a reported £30m.
Negotiations for the Sevilla youngster could be complicated though, with a third party (Doyen Group) believed to hold 50% of his rights. According to Marca, the Andalusian club's president, Jose Maria del Nido, has confirmed a €9m offer from three clubs, one of which is Madrid.
Kondgobia, meanwhile, is enjoying the attention and has admitted delight at being linked to Madrid and Chelsea, among other clubs. However, the youngster is keen to emphasise that he will not leave Sevilla if it endangers his development as a player.
Marca believes the youngster is keen on a move to a bigger club but will not risk sitting on the bench at either the Bernabeu or the Etihad. He has four years left on his present contract and he has been quoted as saying he would be pleased to continue with his present club.
"My goal is to finish the season and continue at Sevilla," the midfielder explained, "I have four years left of my contract, but you never know. What do I think of Madrid? I like Madrid, as I like other clubs. But I am happy at Sevilla."