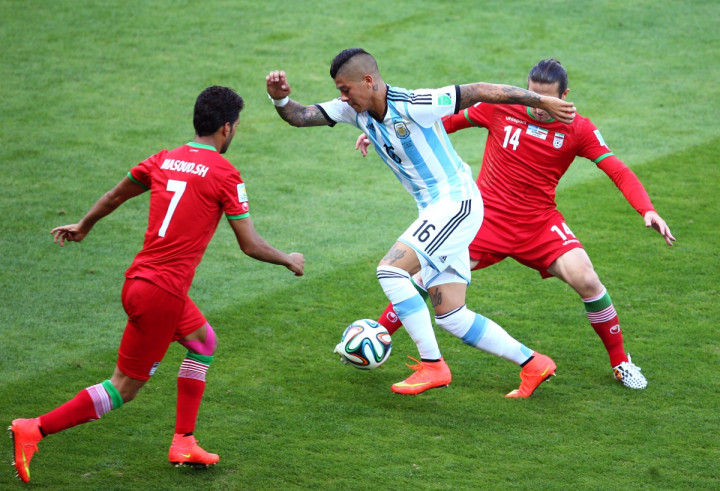 Manchester United are preparing a swap deal in signing Sporting Lisbon defender Marcos Rojo and allow Nani move in the opposite direction, according to the Daily Mail.
The Argentine international has been a transfer target for the Red Devils' manager Louis van Gaal, who is looking to strengthen his side's defence. He played as a left-back for his national side in the World Cup and can also feature as a centre-back.
Rojo's 25% rights is owned by the Portuguese outfit, while the remaining 75% is with Doyen Sport. The latter threatened Sporting to allow the versatile star join United as the player was also keen on making a switch to Old Trafford.
The Red Devils signed Nani from Sporting in 2007 and the Portuguese international is now deemed as surplus to requirements at Old Trafford, despite signing a long-term contract last year.
United are willing to use their winger as a bait in bringing Rojo to Old Trafford. This could allow Nani return to his former club in this summer transfer window. The English club's officials have already held talks with Sporting in signing their player.
The Argentine defender has a £24m release clause in his contract, while United are willing to pay only £16m for his services. Sporting are not willing to let their player leave until Van Gaal's side meets their asking price.
Rojo missed Sporting's training last Wednesday as he wanted to leave his current employers. The player has now issued an apology for his unprofessional behaviour, but has refused to rule out a move in the ongoing transfer window.
"It was all a misunderstanding, I was a hothead. I'm sorry for what happened because I feel that I was unprofessional," Rojo told Sporting's official TV station.
"My career depends on Sporting. Now I will try to correct the situation. At the time Sporting signed me, it was not a good time I can only thank Sporting."