Manchester United vs Barcelona: Louis van Gaal confirms Bastian Schweinsteiger out of squad with 'little injury'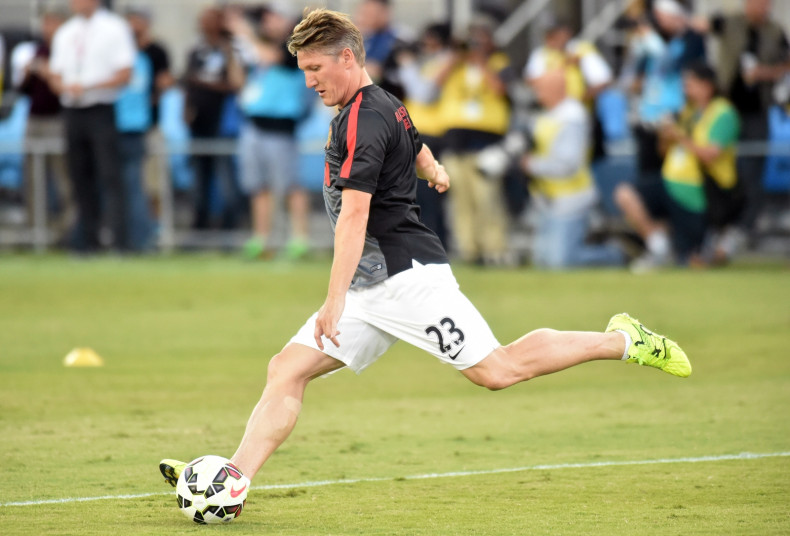 Louis van Gaal has confirmed that Bastian Schweinsteiger will miss the game against Barcelona in the International Champions Cup owing to a "little injury."
The midfielder played the last two games in the tournament and is likely to be available for their game against Tottenham on the opening day of the season. Schweinsteiger is among the four players United have signed this summer, with Morgan Schneiderlin, Matteo Darmian and Memphis Depay being the other three who will be looking to make an impact.
The manager revealed that he will try his best to play the eleven he believes will start against Tottenham and break the time in two parts, with the first team playing for 60 minutes, while ringing in the changes with 30 minutes left in the clock.
"Schweinsteiger cannot play because he had a little injury. So maybe I have Schweinsteiger in my head in the line-up but I cannot do that, but I will play the line-up I think could play against Tottenham," Van Gaal told United's official website.
"We play the first 60 minutes so I have to make a selection already between players, if you play 60 minutes or 30. Our building-up programme was 45 so now you can see which direction I think."
When asked about David de Gea's injury, which kept him out of the squad for the last two fixtures, Van Gaal revealed that he is trying to give him time to recover from the setback so that he does not aggravate the problem by the time the season starts on 8 August.
"When a player is injured, it is the same thing what happens in the season. Then you have to wait and you have seen it because in England it is more usual players are coming in after injuries, but I give them time to recover and build up their fitness," the manager added.