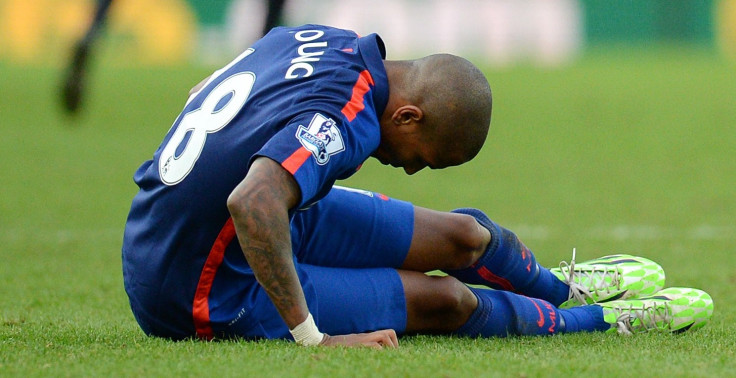 Manchester United winger Ashley Young is "out for many weeks" according to manager Louis van Gaal, after becoming the latest addition to a extensive injury list during the 1-1 draw with Stoke City.
Young picked up a hamstring injury and was replaced by Rafael after 75 minutes at the Britannia Stadium. He will undergo tests to discover the extent of the injury before the club confirm the length of the England international's absence.
The 29-year-old has played a pivotal role in United's recent improvement, playing the full 90 minutes in the club's last seven matches prior to limping off against Stoke. Van Gaal fears he faces a significant lay-off.
"He has a hamstring injury," van Gaal told MUTV. "He's out for many weeks, I think. But I'm not a doctor so we have to wait for tomorrow or the day after tomorrow."
There is better news however for another United injury victim this season, Luke Shaw, who is targeting a run of games in the first team after calming fears regarding his early withdrawal on Thursday.
On his first start since recovering from a hamstring injury of his own, Shaw was replaced by Adnan Januzaj after an hour, leading to fears over the 19-year old's fitness amid an injury-ravaged first season at Old Trafford.
However, the England full-back says his substitution was pre-planned and is hopeful of stamping his authority over United's left-back position.
"I need game time now," he explained. "I had [around] 60 minutes against Stoke and that was pre-planned. If I had been able to go on longer then I would have done, but I think the main thing for me now is to get a run of games together.
"It was a great feeling watching the team do well. We always want to win the games and now I am back fit I want to be a part of the winning run.
"There's massive competition for me. I think it's a big credit to Ashley Young. He has been superb, one of our best players for the last four or five matches. It's just unfortunate for him that's he got this injury now. I hope it's not too bad. I hope he comes fighting back again."