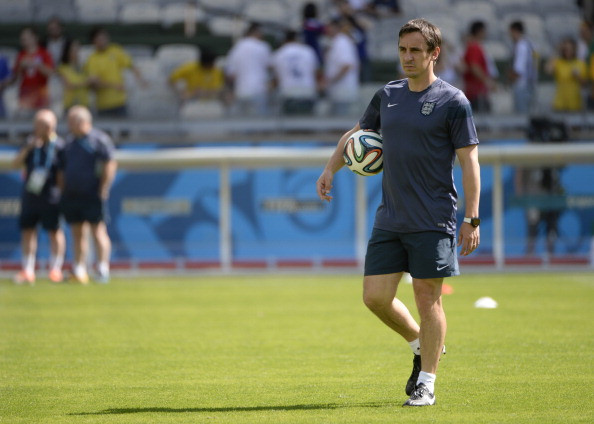 Manchester United legend Gary Neville has urged Louis van Gaal to bolster the defence and the midfield during the January transfer window in order to secure the top four to qualify for the Champions League.
The Premier League giants are sitting in third position in the Premier League table, but are just one point above Southampton and three from Tottenham, who are currently fifth.
Furthermore and after securing their third draw in the last four games in their New Year's visit to Stoke City, they failed to take advantage of Chelsea's defeat at White Hart Lane and are still nine points off the Blues and Manchester City.
Van Gaal already spent more than £150m signing Ander Herrera, Luke Shaw, Marcos Rojo, Angel Di Maria, Daley Blind, and Radamel Falcao (on loan) during the summer, but Neville believes he has to make a new effort in January, especially in the back line and the midfield.
"It wouldn't surprise me if United strengthened in January. I think all the noise from van Gaal and the club in the last few months is that business isn't finished and they've not completed the rebuilding yet," Neville said to Sky Sports.
"I think when you look at defensive and midfield areas; they are really the main areas you would look at, at this moment in time. But I think United will strengthen in the transfer market if they can do business.
Neville believes United have shown improvement from last season's nightmare with David Moyes, but believes they are still far away from the level reached under Sir Alex Ferguson.
"In terms of improvement from last season, of course there has been improvement. In terms of getting back to where Manchester United have been in the last 20 to 25 years, then no, they're not quite there yet. They're not at that level yet, or else they would have been winning games like today," the former right-back said after the 1-1 draw at Stoke.
"United have come out of the Christmas period well because they're unbeaten but I think van Gaal, who is a performance man, will still be frustrated at certain aspects of the performance and the passing.
Nevertheless, Neville believes van Gaal's side are on their way to securing a spot in the top four; however, he feels winning the Premier League shouldn't be their target yet.
"If United can stay where they are and finish third this season then that will be a good season. I think anybody at the start of the season would have said getting back into the Champions League was the aim and then next season they have to challenge for the title.
"But in terms of small steps at a time, the ambition this season was to get back into the Champions League and they're on track for that.
"That's where van Gaal will be at; he said he would win the title within his three years and I think this year was always about getting the squad ready and learning the way in which he wants them to play.
"They looked to have Falcao back today and I thought the performance suffered when he went off. He was tenacious, he grew in the game and, unless he was suffering from something, I was surprised he came off because I thought United actually dipped in performance after that."