Manchester United's Louis Van Gaal defends decision to play Angel Di Maria up front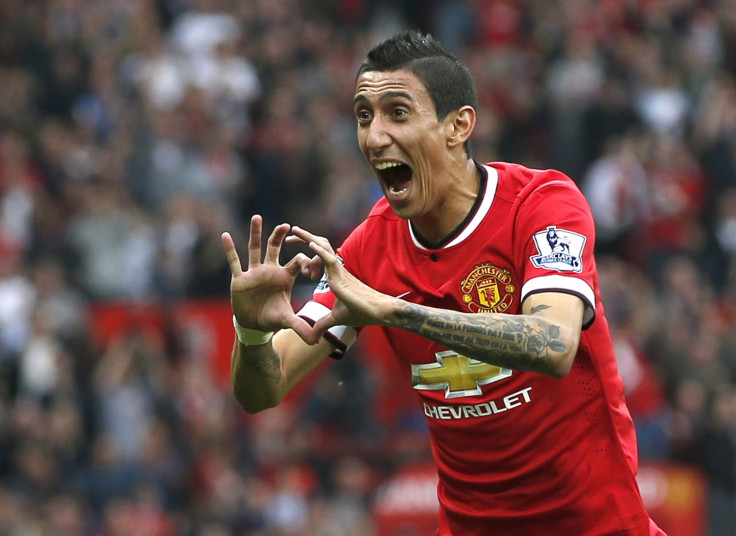 Manchester United manager Louis van Gaal has defended his decision to deploy Angel Di Maria alongside Radamel Falcao during the 2-0 victory over QPR last Saturday, insisting the team "need pace in that position and to stretch the pitch".
The Dutch boss has so far failed to get the best from the Argentinian international at Old Trafford since his £59.7m record signing from Real Madrid.
Even though he was originally a classic winger, Di Maria excelled as box-to-box player last season, in the 4-3-3 of Carlo Ancelotti, providing a perfect link between the midfield -- shaped by Luca Modric and Xabi Alonso -- and the attacking triangle formed by Gareth Bale, Cristiano Ronaldo and Karim Benzema.
However, the Argentinian international has scored just three goals in 14 Premier League appearances at Old Trafford and, after more than four months in England, van Gaal has yet to decide which position suits better for him.
Having used him as a wing-back, a creative midfielder and a classic winger during the first months of the competition, van Gaal surprisingly deployed him as a number nine at Loftus Road, even ahead of Falcao.
Some pundits and fans have since questioned Van Gaal's decision as, after a very poor first half, even the manager decided to return the Argentine to a natural deeper role, with James Wilson playing in the striker role.
But now van Gaal has backed his tactics: "He played in the 4-4-2 in the left midfield position, but in the 3-5-2 he does not play so much because he has been injured."
"Then he came back and I tried him as a striker because we also need pace in that position. We have to stretch the pitch – that is an important aspect of a striker, that he can stretch the pitch. Then you make the pitch bigger and your midfielders can play in a bigger space and play a better positional game than ever," he said, according to Manchester United official website.
"So I tried that – I had to try it because I didn't have the preparation at the beginning of the season [Di Maria joined in late August]."
United visit Cambridge on Friday night 23 January for the FA Cup fourth round but the boss refused to confirm whether Di Maria will play again up-front or will return to the midfield.
Former United midfielder and currently Cambridge star Luke Chadwick hopes van Gaal will rest the Argentina star.
"I've loved watching him play since he signed for United. I think he's a real world-class player," Chadwick said.
"We know we're playing against one of the top teams in the world and, if they play to their full capabilities, then it's going to be really tough for us. United have had the odd off night this season, so if they have one then maybe we'll get the odd chance. You never know."
© Copyright IBTimes 2023. All rights reserved.