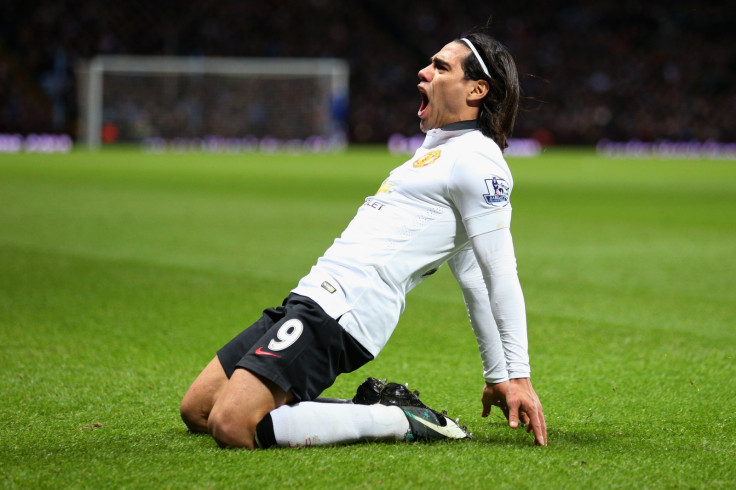 Michael Carrick has picked Radamel Falcao in his ideal Manchester United five-a-side-team, alongside Angel Di Maria, Wayne Rooney and Robin van Persie - even though the Colombia international is struggling to convince manager Louis van Gaal he deserves a regular place in his starting line-up.
Having only scored three Premier League goals at Old Trafford since his sensational loan move from Monaco on deadline day last summer, the manager surprisingly decided to leave him out of the squad during the defeat against Southampton on 11 January.
Van Gaal then urged the striker to prove his worth at Old Trafford in order to earn a permanent move to the Premier League giants this summer, while handing him a place in his starting line-up for the game against Queens Park Rangers on 17 January, which United won 2-0.
Falcao failed to score a goal at Loftus Road but while the manager defended his performance after the game, Falcao has also received the support of vice-captain Carrick.
When asked to pick four colleagues to join him in an ideal five-a-side team, Carrick did not hesitate to choose the Colombian.
"I'd go for all-out attack so Falcao, Angel, Robin and Wazza," he said to Manchester United's official website.
Meanwhile, Carrick has hailed the competitive nature in the United squad, which features even during training sessions.
"Everyone's competitive. There isn't really anyone at the minute that stands out but that's not to say it isn't competitive. Every day you want to win and come out on top in training. That's why nobody really stands out, everyone's trying to do as well as everyone else," he said.
"It's serious - you don't want to lose. I think that's built in us, whatever we play, whether it's table tennis on tour or a game of pool, snooker, anything. It's always competitive. When you get out on the training pitch, you don't want to go back inside the changing room and be on the end of some stick after the session."