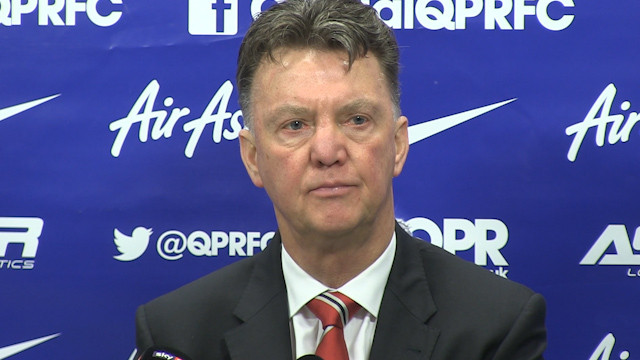 Louis van Gaal didn't get where he was today by compromising.
The Dutchman is one of few men to have managed some of the biggest teams that Germany, Spain and England have to offer, and his countrymen can tell you first hand of his ability to draw out the best of what he's given having led a talented but limited Holland side to a third-place finish in the World Cup last summer.
The man dubbed the Iron Tulip has a commanding aura that few possess in football, and that hasn't been earned by compromising his vision or oft-touted philosophy for the egos at board level or on the playing field. But on Saturday afternoon at Loftus Road, with Manchester United struggling to break down Queens Park Rangers, Van Gaal finally showed the sort of flexibility that many of the club's fanbase, and indeed some of his own players, had been craving.
It's no secret that United's repeated use of the 3-5-2 formation has caused a number of issues for the club's more creative talents, while somehow failing to provide proper protection for a defence that is still utterly unsettled as the hunt for a Champions League spot heats up. Bottom line going into Saturday's match was that Van Gaal's side simply weren't creating enough, backed up by a failure to register even a solitary shot on target during last weekend's 1-0 defeat at home to Southampton.
Still, the United manager stuck with the same formation, keeping Angel Di Maria up front alongside Radamel Falcao, with Wayne Rooney rooted to midfield. Had the Colombian fired home from Juan Mata's delicious delivery in the opening exchanges, then perhaps some forgiveness would have been forthcoming from fans and journalists, but the truth was that United were labouring for the majority of the first half against Harry Redknapp's side, and ended up indebted to David de Gea for the umpteenth time this season after two brilliant saves to deny the in-form Charlie Austin.
United lacked spark, their most dangerous assets looked uncomfortable on the ball and they rarely troubled the home side. It's doubtful that the club's raucous travelling contingent were the ones that truly swayed Van Gaal's thinking at half time, but the fact that those fans in the away enclosure felt compelled to chant "4-4-2" and "Attack, Attack, Attack" speaks volumes. For all of David Moyes' faults, the club's fans were rarely so clear with their suggestions during his reign.
How do you solve a problem like Di Maria?
The frustration was partly borne of Van Gaal's insistence on using a line-up that doesn't help his team's greatest assets, and having spent nigh-on £60m to lure Di Maria away from the Bernanbeu, playing the Argentine in an unfamiliar role where he sees less of the ball almost felt like experimentation for the sake of it. The Dutchman's substitutions have frequently puzzled during similar situations, with Falcao's absence from last weekend's matchday squad particularly surprising given how United laboured to find space behind Southampton's defence.
This weekend, Van Gaal responded by throwing Marouane Fellaini into the fray for the overrun Mata, and was rewarded with a far more pointed second half display. It wasn't perfect; Marcos Rojo and Michael Carrick will be eternally grateful that Eduardo Vargas was so wasteful after their lack of communication allowed the Chilean to steal the ball from between them, and De Gea was again on hand to steady the ship in the closing minutes with the game still delicately poised, but there was menace present in United's attacking play at last.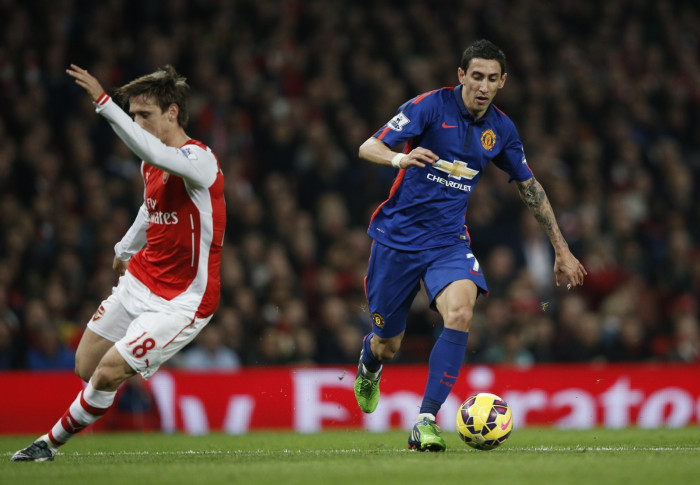 There's nothing inherently wrong with 3-5-2, per se. It's just that at present, Van Gaal doesn't have the quality available to him in important positions (namely wing and centre back) to make it work effectively. It's created startlingly little of late, and the loss to Southampton alongside draws against Spurs, Aston Villa and Stoke suggest that too many teams have figured out how to combat it. The Dutchman's desire to protect an injury-prone and rudderless defence has ended up blunting his greatest assets in attack, with Falcao and Robin van Persie frequently starved of service during its use and made to look ineffective.
Of course, one half of football in which United beat a side scrapping for their lives at the foot of the Premier League table is unlikely to sway Van Gaal's mind for the rest of this season. Yet given the urgency of the need to make a return to Europe's top club competition by the conclusion of this term, there's an argument for saying that the club has to give itself the best chance of winning games as opposed to erring on the side of caution.
Race hotting up
The seven points that currently separate Ronald Koeman's side in 3rd and Liverpool in 8th means that there are six clubs fighting for two Champions League spots, and after last season's disasters under David Moyes, the Dutchman needs to make sure that his side keep a firm grip on fourth, at the very least. An unlikely win for Arsenal at the Etihad and Liverpool's current resurgence suggest that the race for Europe will be far tighter than matters at the Premier League's summit, so the pressure on Van Gaal getting things right will only increase.
And he could do far worse than rely on his attacking talent to forge a path to the top four. Falcao instantly appeared to appreciate the increased service and support he received after the change-up at Lotfus Road, and despite failing to find the net once again, he looked far more involved than he had done in the opening period. Di Maria's best moments in a United shirt have come when utilised in a midfield diamond, and given Rooney and Van Persie's skills in front of goal have yet to dwindle, operating in a system that would benefit them first and foremost seems rather prudent.
This past week has seen constant comparisons between Van Gaal and his predecessor thrown about like confetti at a wedding, but it's worth pointing out that Moyes was criticised constantly for making his United side fit into a rigid, uninspiring system that was about as flexible as a brick wall. The current United manager has the ability, knowledge and wisdom to avoid a similar fate and the same criticism in the long term, but having seen his side stutter under an unfamiliar formation for several weeks, it was certainly nice to see the Iron Tulip appear more adaptable when his team were struggling.
Given the chasing pack gathering behind United in fourth, the timing of such a discovery is impeccable.
The article was provided by Red Mancunian, one of the most popular Manchester United fan accounts in the world. You can follow them on Twitter here or go to www.redmancunian.com.