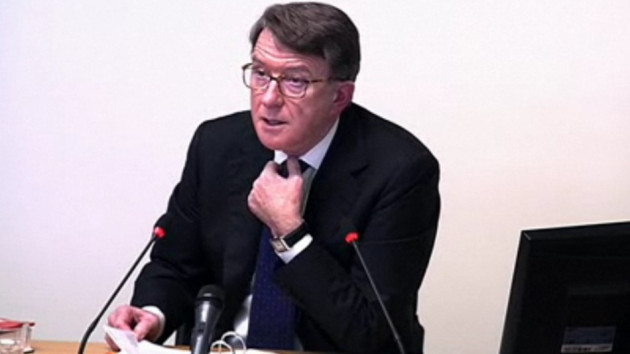 Lord Mandelson has called for greater control over the UK press, claiming a prime minister would have to "think long and hard" before taking it on.
Mandelson, a long-serving New Labour figure under both prime minister Gordon Brown and Tony Blair, told the Leveson Inqury into press ethics that the media "to all extents and purposes regarded themselves as the law".
He said taking on the press would be viewed as "politically suicidal", while Blair viewed dealing with them as akin to "wrestling a crocodile".
"[Blair] felt the influence of the press on the country and society was baleful," the former business secretary said. "He believed the press made people cynical and negative towards politics and politicians and thought this was undermining of our democracy."
He said there was never a more important time to get the press under control, claiming that it needed greater "corporate governance, transparency and professionalism" in order to raise standards.
Throughout his time in various New Labour cabinet positions, Mandelson regularly came face to face with the press, particularly during the 1992 general election battle, which he described as "horrible and bloody".
He admitted that "various dialogues" were opened with News International in the 1990s in order to improve its relationship with Labour.
"I don't think that's unreasonable. I was hopeful if we started turning things round and looked like winners he might be more attracted to supporting the Labour Party," he said in reference to Rupert Murdoch.
However, he denied any sort of deal with Murdoch for News International's support of Labour in 1997. He said: "I don't think such a conversation would have taken place."
To show the scale of the power of the press to pressure politicians, he used the example of the single currency debate, when Blair came under heavy fire from the tabloids.
"Our policy was to prepare and decide, and in pursuit of that police Mr Blair decided to publish a putative national changeover plan from the pound to the euro, should it be seen that going in was in Britain's best interest.
"The Sun's front page featured a large photograph of Mr Blair with the headline 'Is this the most dangerous man in Britain?' ...You got a taste of what would happen if you want against their wishes and views on Europe."
He added: "I don't think that the press need be the last bastion that doesn't have some form of accountability or enforceable standards. Even lawyers have that now."
Robert Jay QC said: "I'm not sure about your use of the word "even", prompting laughter from the inquiry.
He said that the responsibility of taking on the press was given to Lord Justice Leveson because "no one would want to single themselves out as taking on the press. You would be putting the government of the day in an incredibly awkward position."