Pacquiao Wants Fifth Battle with Juan Manuel Marquez and Mayweather Fight After Bradley Rematch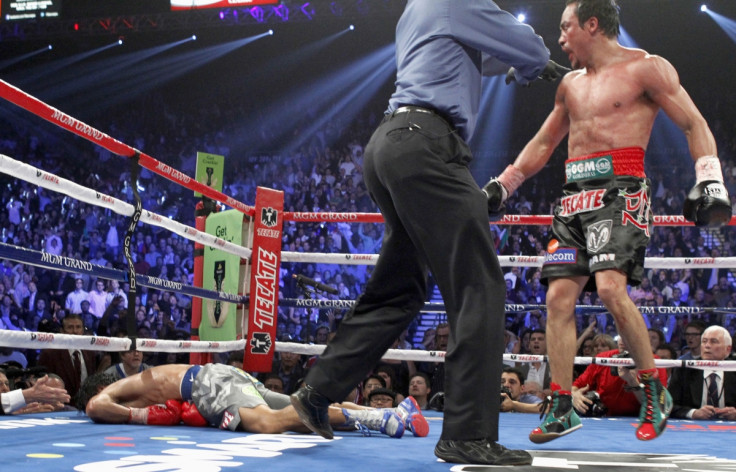 Manny Pacquiao has his eye firmly on a fifth battle with Juan Manuel Marquez in addition to a titanic encounter with Floyd Mayweather should he overcome the challenge of Timothy Bradley.
The Filipino fighter has quelled talk of retirement after suffering two defeats in his last three bouts as he prepares for his Las Vegas showdown with Bradley, who he surrendered his WBO welterweight title to after a highly controversial split decision in 2012.
At 35, questions have been asked whether Pacquiao's powers are finally on the wane by both the Mayweather camp and Bradley, with his standing as a congressman in his homeland also working to form the suggestion that his days in the ring are numbered.
But ahead of his rematch with Bradley, Pacquiao has brushed off talk of retirement and talked up the possibility of a fifth meeting with long-term adversary Marquez should the Mexican prevail in his meeting with Mike Alvarado in May.
"I believe I can go on for another couple of years at least," Pacquiao said, the Daily Mail report. "I'm not only hungry but I still have the same speed and boxing skill and I intend to continue my journey.
"If Marquez is impressive in his upcoming fight I am not against fighting him again and closing the book on that one."
Despite constant speculation, a potential fight with the five weight world champion Mayweather has failed to come to fruition after an initial meeting in 2010 was abandoned.
Disputes over fees, drug tests and Mayweather's long running dispute with Pacquiao's promoter Top Rank have ensured a fight between the two remains a fantasy. But with Pacquiao recently making it unequivocally clear that he is still open to a bout with the unbeaten American, there is hope for the fight yet.
Fights further down the line will largely hinge on whether he can overcome the challenge of the unbeaten Bradley this Saturday. The decision that saw the California-born fighter awarded the victory in their first meeting bewildered many, but it is something that acts as Pacquiao's greatest incentive.
"Because I am facing Tim Bradley again I am extra motivated for this fight. I may not have won the decision the first time we fought but I know I did not lose that fight. I want the world title he won from me back around my waist. I want to prove I am the better fighter," he said.
"I still have the hunger and the desire to win and I appreciate Tim Bradley giving me this rematch to prove it. Unfortunately for him, on April 12, I will not be able to repay him that favour with kindness."
© Copyright IBTimes 2023. All rights reserved.