Alex and Andy Johnson have a son, Jack, aged seven, who suffers from Duchenne's disease, a form of muscular dystrophy that without treatment will inevitably lead to premature death. At present, there is no cure for him.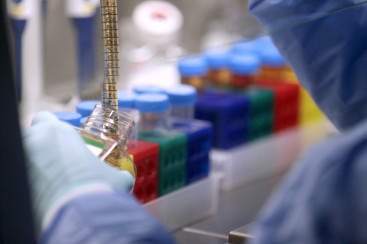 I'd never heard of this devastating disease until I met Alex at a Respublica Life Sciences conference recently and heard her heart-breaking story. She was there, with another young mother Emily Crossley whose son Eli also has Duchenne's, to lobby George Freeman, the life sciences minister, to push the case for the NHS to fund – and help speed up – early access to new treatments for children with this crippling disease.
Jack and Eli are among 2,200 children in Britain with Duchenne Muscular Dystrophy (DMD) which is a rare genetic childhood muscle wasting disorder usually diagnosed in children aged around five and usually, but not always, affecting boys.
It's a progressive disease so that most children lose function through the lower body first, and then upper body function. By the age of 12, most children are in a wheelchair and by around 20 years old, they will have lost all their physical function. Most die by their late twenties.
Yet there are new treatments being developed which are potentially life-saving, one in particular called Translarna made by the US drugs group PTC Therapeutics. Clinical trials have shown the drug to be highly effective for those children with a specific mutation – known as the 'nonsense' mutation – which affects around 90 children in the UK.
If the drug treatment is given when the child is around five years old, and is still walking, it can prevent the disease deteriorating. Indeed, Translarna was approved by the European Medical Agency and European Commission last July and is now being used by patients in some European countries; in Germany with full re-imbursement for patients. The drug is not cheap – it costs about £200,000 a year per patient.
Not surprisingly, Translarna is not available here in the UK. Partly because of the latest NHS England reorganisations and partly because of the so-called purdah period ahead of an election, the bureaucrats at the NHS have just decided to postpone a decision over funding until the summer.
Yet time is of the essence. As Alastair Kent, chairman of Rare Diseases UK, points out, the longer the NHS takes to make its mind, the more the children deteriorate. Translarna can only be given to children who are still walking, so many of them will have worsened by the time the NHS decides to fund, or not.
Kent doesn't waste his words: "These boys maybe disabled by the time they get the treatment. Frankly, the decision to delay is bonkers; the NHS moves more slowly than a glacier; there are 11 different committees within the health service which such a drug has to go through before it is cleared."
As well as speeding up the funding process, Kent suggests there should be more transparency within the NHS and Nice on how they come to make decisions on which drugs can and can't be funded and more proper cost benefit analysis.
"There are more than 8,000 rare diseases which affect about 3.5 million people in the UK. Can you imagine if that number of people were affected by any other one disease, costing the UK billions of pounds every year and causing long-term suffering and premature death, and went untreated? There would be an outcry."
Well, it's time for an outcry. It happens to be Rare Disease Day next week and hopefully these topics will be high on government agendas everywhere because there are much bigger issues at stake.
Professor Kate Bushby, an expert in neuromuscular diseases at Newcastle University who led the UK's clinical trials of Translarna, says the advances being made in personalised genetic medicine are so rapid today that soon there will be cures and treatments for many disorders such as DMD and there will be many more tough decisions to be taken like this case.
Ironically, the UK's life sciences industry together with the Genomics UK new programme leads the world with new personalised treatments. But Bushby adds: "We hear all this rhetoric about leading the way in the world and we've thrown our hat into the ring to be the leader in personalised treatments. It's taken 26 years to discover the genetic base for DMD. Do we have to wait any longer for treatments? There is a reality gap. Why can't the decision-making be faster?"
It's a good question and as yet the NHS hasn't even started to answer it. Unusually, patient charities like the one that Alex set up – JoiningJack – are increasingly investing in new research themselves. Even if Translarna were available, it wouldn't work for Jack because he has a rare mutation that occurs in the dystrophin gene – number 23 on the frequency list – so a different drug will need to be created to suit his specific case.
And she and her husband, the former Wigan Warriors rugby player, are helping do just that. Their charity has raised more than £500,000, some of which has been invested as 'seed' money with the drug companies to help find a new treatment for Jack as they know that an 'exon skipping' drug could be made for him. Alex adds: "For now though, because of the current regulatory requirements, my son and his exon are commercially unviable." Now that is bonkers.
Margareta Pagano is a business journalist who writes for the Independent and the Financial News. Follow her on Twitter @maggiepagano.