When European Commissioner Margrethe Vestager told US tech giant Apple to pay €13bn ($14.5bn) in back taxes, the experienced Danish politician probably calculated the roof would fall in. And that is what happened.
Vestager, 48, disclosed that earlier tax arrangements struck between Ireland and Apple in 1991 and 2007 broke European rules on state aid.
The competition commissioner said selective treatment towards Apple, which employs almost 6,000 staff in Ireland, allowed it to pay an effective corporate tax rate of 1% on its European profits in 2003 down to 0.005% in 2014.
Vestager added: "This decision sends a clear message. Member states cannot give unfair tax benefits to selected companies. No matter if they are European or foreign, large or small."
Apple and Dublin have both stated they will appeal the ruling.
Apple chief executive Tim Cook raged: "It's total political c**p. They just picked a number from I don't know where."
The US Treasury Department warned: "The Commission's actions could threaten to undermine foreign investment, the business climate in Europe, and the important spirit of economic partnership between the US and the EU."
However, a stream of comments on social media, across Europe and the US congratulated the commissioner on her stance.
Governments across the world carry higher debts since the financial crisis, a result of rescuing key industries and having to pump cash into their economies to keep them afloat. This means that national treasuries are constantly searching for additional revenue.
US firms have $1.2tn of cash stashed in low-tax regimes outside the US, which has one of the world's highest corporate tax rates at 39%.
The US is looking at plans to allow these firms to repatriate this cash, bringing it under the American tax system.
This explains US anger at the EC's order for Apple to hand over €13bn in back taxes to Ireland, which they see as cash destined for US coffers.
But Vestager, a mother of three daughters, was not afraid to step into choppy waters and fight for a share of this cash which she believes belongs to Europe.
She said: "Europe is a wonderful place to do business, with a single market of potentially 500 million customers.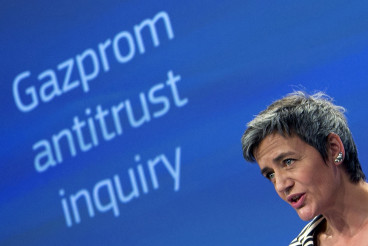 "We see many companies who pay their taxes, who contribute to the societies they are part of. Where they use the roads, the infrastructure, hire skilled employees educated in their national education systems. These companies pay their taxes, and they expect other companies to do the same."
Vestager took up her five-year post as competition commissioner in 2014, taking over from Spain's Joaquin Almunia.
The straight-talking Vestager left the Danish government where she had been the economy minister and deputy prime minister for three years for the centrist Social Liberal Party.
Many colleagues insist Vestager was the model for the fictional woman prime minister Birgitte Nyborg in the hit Danish political drama Borgen.
An independent-minded personality Vestager always rode her bicycle whenever she was called on to meet the Danish Queen Margrethe II. She graduated from the University of Copenhagen's master of economics programme in 1993 before working as an economist in the Danish finance ministry. Vestager was first elected to parliament in 2001 and became political leader of the Social Liberal Party in 2007. She later served as minister of education from 1998 to 2001.
At her selection hearings before the European Parliament in October 2014 before being confirmed in the role Vestager dropped strong hints about how she planned to approach the job.
She explained: "I will listen to everyone, from the largest multinationals to the representatives of small firms. From states to citizens. But the analysis of my staff and my own judgement will not be swayed by anyone."
The European commissioner has a full in-box. Online giant Amazon and fast food chain McDonald's face similar EC probes over taxes in Luxembourg, while coffee chain Starbucks has been ordered to cough up around €30m to the Dutch state, though it is also appealing that decision.
The EC is also understood to be scrutinising the European tax arrangements of online search giants Google.
The Institute of Directors chief economist James Sproule told IBTimes UK that Vestager's decision has sent shockwaves through business and political circles around the world.
Sproule said: "Britain's taxation laws are likely to be beholden only to Parliament and the Treasury once we leave the European Union, and there's no question that the Apple decision will have been noted not just by the British Government as they make plans for Brexit but by the world's largest firms as well.
"If and when our taxation rules are written here, these rules should be transparent and business-friendly. That could well give the UK a competitive advantage over not just those in the EU but, if we get them right, those further afield too."
Governments and business will keep a stern eye on the battle Vestager is waging against some of the biggest firms in the world for the right to decide who sets corporate tax bills.