Maria Sharapova has been suspended for two years by the International Tennis Federation (ITF) after testing positive for banned substance meldonium.
After being provisionally banned in March for testing positive following the Australian Open, the ITF have ruled the 29-year-old Russian did not intend to cheat but ruled she was "the sole author of her own misfortune", having "failed to take any steps to check whether continued use of the medicine was permissible".
Sharapova had already admitted she continued taking the substance, which she has used since 2006 for medical reasons, after its ban. She claims she was unaware it had been added to the prohibited list as she knew it by another name – mildronate.
The 33-page document released by the ITF details the evidence given during the tribunal. IBTimes UK has picked out its most remarkable lines.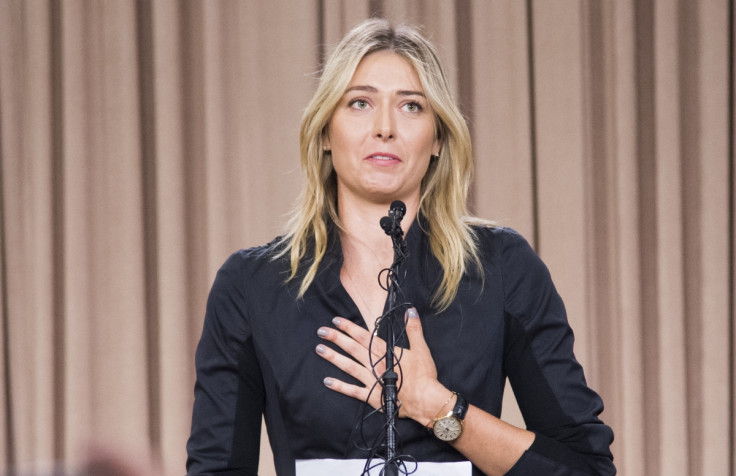 Other than Sharapova, only one person knew she was taking meldonium
The tribunal revealed just one member of the Sharapova camp, her agent Max Eisenbud, knew she was taking the substance. Following her split from family physician Dr. Anatoly Skalny in 2013, the man who initially prescribed the drug, Sharapova never told her new family doctor in California or medical practitioners provided by the WTA she was taking meldonium, despite seeking medical advice when she suffered an injury or illness. That wall of silence extended to her coach, her trainer, her physio and nutritionists. Sharapova explained she never disclosed her use of the substance because, well, they never asked. The ITF described that as "hard to credit."
Eisenbud suggested cancelled Caribbean holiday led to error
Eisenbud, vice-president at sports agency IMG, said in a witness statement Sharapova has a "a team of people, myself included, committed to guaranteeing that all of her medications, vitamins and supplements are permitted under the Wada Anti-Doping Code." Despite that, he took the task of reviewing Wada's updated Prohibited Substance list on himself, something he chose to do during his annual vacation to the Caribbean with his wife. But when it came to monitoring the prohibited list in 2015, he didn't read the list, because the trip was cancelled.
The ITF statement explained: "In November 2013 and 2014 he printed out a copy of the Prohibited List for the forthcoming year to take it with him on his vacation in the Caribbean so that it could be checked. In 2015 he separated from his wife, did not take his annual vacation in the Caribbean and due to the issues in his personal life failed to review the 2016 Prohibited List."
Eisenbud also stated that he had no "training to understand the composition of the Prohibited List."
Sharapova would routinely list other medication but didn't think meldonium was of "high importance"
Between 2014 and 2016, Sharapova submitted doping control forms listing various medications and vitamins she was taking. They listed a lot of things, but not meldonium. That's despite taking 500mg of the substance on dates before each of her five matches at this year's Australian Open.
On cross examination, Sharapova said she did not feel it was "huge responsibility" to list every single substance she was taking as it was not of "high importance." Examples of the substances she did list were vitamin C, Omega 3, Biofenac and Voltaren (anti-inflammatories which may be taken orally or in gel form).
Sharapova added the list would be too long if she wrote down every single substance she had taken. The ITF note that on most cases, Sharapova only declared two substances.
Sharapova and Eisenbud constantly asked about other substances
The ITF note both Sharapova and Eisenbud were "very familiar" with WTA medical advisors and frequently sought advice on what substances were permitted, doing so on a number of occasions between 2011 and 2015. Sharapova even emailed officials to check where a prescribed nasal spray for sinuses issues was permitted.