Spain Train Crash: PM Mariano Rajoy Sends Condolences to Gansu Earthquake Victims in Copy and Paste Blunder
The Spanish Government has been heavily criticised for sending a 'cut and paste' message of condolence to the people of Galicia - and failing to change the names in it.
Following the train crash which killed 77 people, the Government sent out a statement which appears to have been used for the earthquake in China earlier this month.
The message, attributed to Spain's Prime Minister Mariano Rajoy, reads: "I want to convey my deepest condolences for the loss of life and material damage brought by the earthquake that took place this morning in Gansu."
Earlier in the message, Rajoy claims he is dismayed "as a Spaniard and a Galician" at the news of the derailment near Santiago de Compostela, the prime minister's hometown.
The message was swiftly corrected on the Government's own website, but not before it caused a stir online.
Some netizens joked about the blunder, tweeting "Santiago, Gansu province - PRC (People's Republic of China)", while others were less kind to Rajoy, who is facing corruption accusations in a separate scandal.
"According to Rajoy condolences go to the victims of Gansu tremor. Depressing, as incompetent as it can be #shame," tweeted user Irene Millán García.
The crash occurred when an eight-carriage train travelling from Madrid to Ferrol derailed on a curved stretch of track at 190mph, is Spain's worst rail accident in 40 years.
It occurred just a few weeks after China's north-west Gansu province was hit by a powerful earthquake that left at least 75 people dead and more than 400 injured.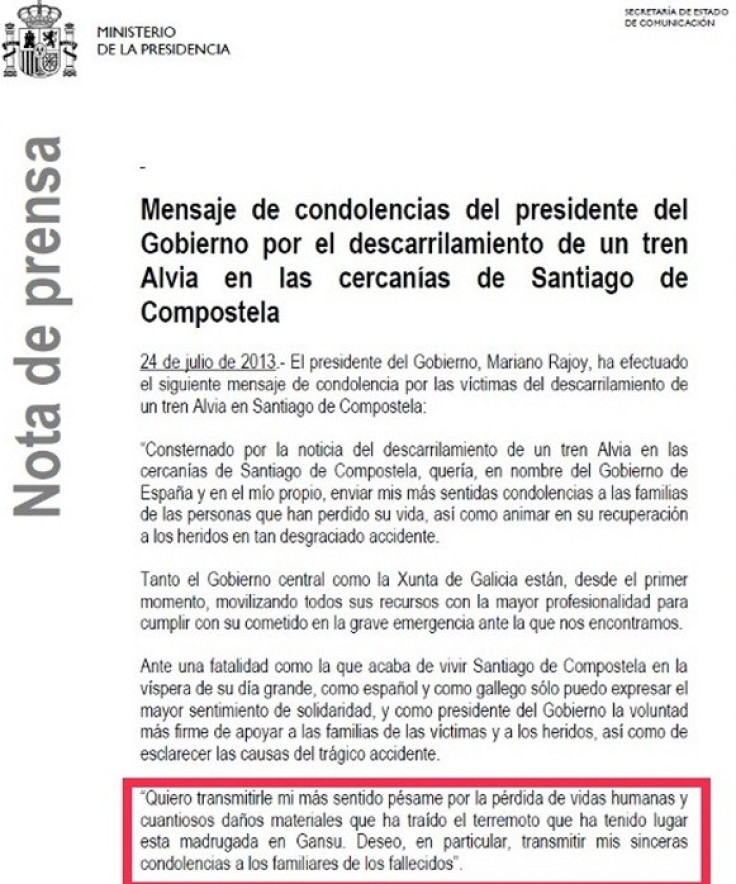 © Copyright IBTimes 2023. All rights reserved.