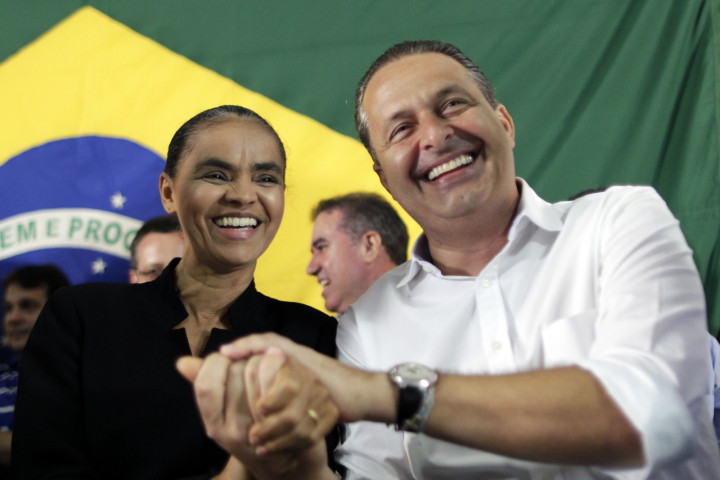 Following the death of Eduardo Campos, Brazil's presidential candidate who died in a plane crash on Wednesday, all eyes are on his vice-presidential running mate, Marina Silva, as his obvious successor.
Silva is a former environment minister from a poor labouring family in the country's north, who has a good track record and is highly regarded among the electorate in Brazil.
As an ecological campaigner, the 57-year-old is widely credited with slowing deforestation of the Amazon. She ran as a Green party candidate during the last presidential election in 2010, coming third with 19 million votes – a record for an environment party politician. Silva also regularly scores higher than any other politician in the opinions polls, apart from the current president Dilma Rousseff.
Another factor working in Silva's favour is her race. As the most prominent Afro-Brazilian in the country, she will attract support from a traditionally disadvantaged group in Brazil that represents nearly 8% of the 202 million population.
Her humble background, one of 11 children brought up on a rubber plantation, will also likely resonate with the populous, particularly in a contest against Rousseff, who comes from a political dynasty (her grandfather Tancredo Neves was appointed president in 1985 but died before taking office).
Mourning for her friend
But recent reports say she is still in shock from the death of her running mate and has yet to decide whether she will run in his place in the upcoming presidential election on 5 October.
The eyes of the world will be waiting for that decision to be cast - a bid by Silva could threaten President Rouseff's re-election hopes as Silva has widespread support among Brazil's disaffected voters who are tired of the country's traditional parties.
Congressman Alfredo Sirkis told local press sources on Thursday morning that Silva's concerns "are more human concerns at this moment" than about making a pitch for the presidency.
Indeed, the whole country has been stunned by Campos's tragic death this week, and his party, the Brazilians Socialist Party (PSB), said no meetings will be held to discuss the party's election ticket before his funeral.
Sirkis, who helped Silva found Brazil's Green Party in 1986, said:
"Picking her as presidential candidate is an obvious solution. But in politics the obvious is not always the case".
But many analysts and politicians expect the party to embrace Silva, who appears to have the convictions and the popularity to shake up the campaign, though she will need to convince the more conservative factions within the party who openly frown on her conservationist priorities and anti-establishment style if she is to be the presidential candidate.
The PSB announced on Thursday that the party is in mourning and will make election decisions in due course, meaning nothing will happen until they bury their leader in his home city of Recife next week.
In the wake of Campos's death, Silva – a devout evangelical Christian – is understood to be secluded in her Sao Paulo home, praying and meditating, but not discussing politics with anyone, an unnamed party politician told The Associated Press.
Her faith could prove to play a major factor if Silva does run for the presidency. As a member of the Assemblies of God, her Pentecostal faith appeals to a growing number of evangelical Christians in a country that is still primarily Roman Catholic. But in either case, voters with Protestant and Catholic backgrounds are sympathetic to her piety in a country where religious and social conservatism run strong.
As PSB has just nine days left to confirm who will be Campos's successor, Silva's coming week is expected to receive extensive coverage as the world speculates on whether she will take his place and make an already close presidential election even harder to call.