Marine Le Pen, the leader of French far-right party National Front (FN) began her bid to become France's next president on Saturday, promising to "give France its freedom back."
Unveiling her party's manifesto, Le Pen vowed to stage a "Frexit" if France could not renegotiate its relationship with the European Union (EU0 within six months of the election.
Le Pen, the daughter of the party's founder Jean-Marie Le Pen, has an early lead in opinion polls ahead of the elections. The presidential election, which has two rounds of voting, enters its first stage on April 23.
Le Pen is expected to do well in the initial, but lose ground after the second ballot on May 7.
NF are riding on the wave of recent gains for right-leaning political parties, typified by Britain's UKIP and the UK's referendum result to leave the EU. Le Pen's message also mirrors Donald Trump's tone in the US presidential election.
Introducing her 144-point manifesto, Le Pen said: "The aim of this programme is first of all to give France its freedom back and give the people a voice,"
Principally vowing to leave the EU if power over France's borders cannot be assured, Le Pen added she leave the single-currency and undertake a policy of protectionism by only opening public procurement to French firms, whereever economically viable.
Le Pen would also make the process of obtaining French citizenship more stringent, as well as stopping free basic healthcare for illegal immigrants.
The 48-year-old's public spending policies, such as expanding the police force and lowering the age for retirement to 60, are reported by Reuters as "short on macro-economic detail."
Leader of the party since 2011, Le Pen made her first bid for the presidency in 2012, when she polled in third place.
Emmanuel Macron, an independent pro-European centrist candidate, has recently overtaken conservative oppenent Francois Fillon to challenge Le Pen in the presidential election run-off, after Fillion was involved in a financial nepotism scanadal involving money given to his children as his aides.
Le Pen said of her competition: "This presidential election puts two opposite proposals.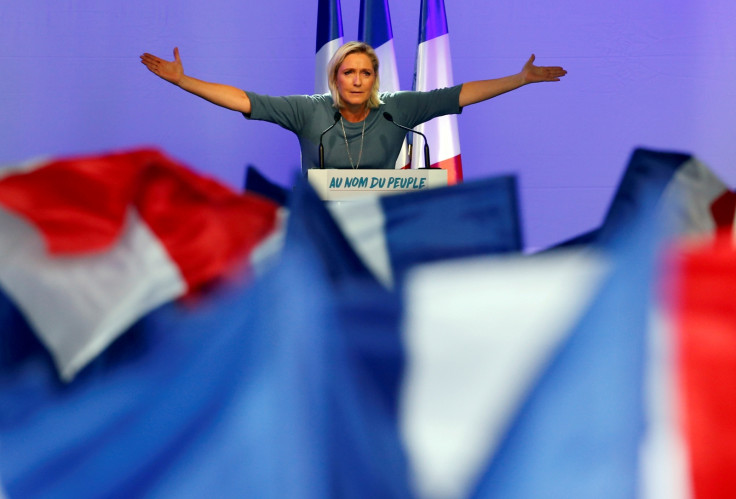 "The 'globalist' choice backed by all my opponents ... and the 'patriotic' choice which I personify."
Le Pen is herself currently embroiled in a scandal around payment of an aide, after an anti-fraud investigation found she had been receiving a stipend as a parliamentary assistant for the MEP while in fact working for the NF's headquarters in Paris. Le Pen has refused to return the €339,000 (£292,830).