French far-right leader Marine Le Pen has identified 2017 as the year "the people of continental Europe will wake up".
Speaking at a gathering of right-wing populist parties in Koblenz, Germany, the Front National (FN) president said Brexit would trigger a domino effect that will "bring down all of Europe".
Le Pen is eyeing the French presidency in this year's elections and is likely to make the second round runoff in May.
Her Euroscepticism is a key element of her campaign and Le Pen has promised to deliver an EU referendum in France during her first six months in office if she wins the presidency.
"We are experiencing the end of one world and the birth of another," Sky News quoted Le Pen as saying.
"The first real blow struck against the old order, the thing that will set off the domino effect that will bring down all of Europe, is Brexit – a sovereign people has decided to leave an agreement of the powerful, to decide its own destiny," she added.
"The second blow came shortly afterwards and that was the election of Mr Trump to the presidency of the United States, putting the friends of neo-liberalism in an even more difficult situation."
Le Pen was seen visiting Trump tower in New York earlier this week. Trump's team said she did not meet with the then President-elect.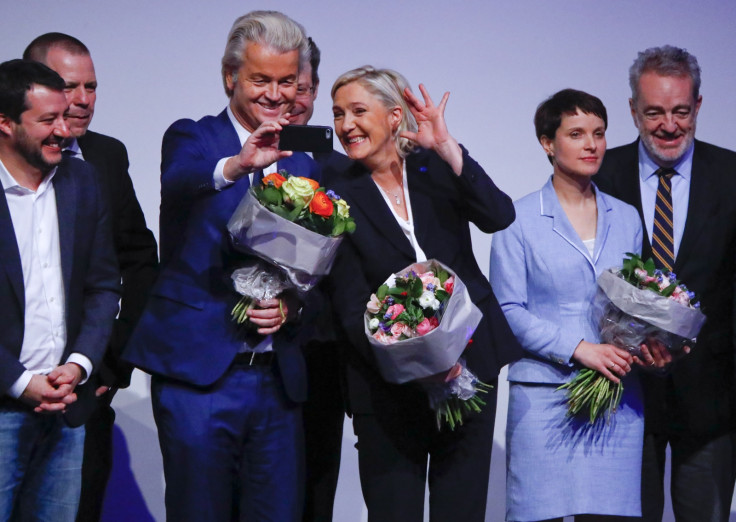 Other far-right leaders at the meeting included Geert Wilders, leader of the Dutch anti-Islam Freedom Party (PVV), Frauke Petry of the Alternative for Germany (AfD), Harald Vilimsky of the Freedom Party of Austria and Matteo Salvini, who heads Italy's Northern League (LN).
Wilders hailed Trump's rise as US president and said to loud applause: "Yesterday a free America, today Koblenz, tomorrow a new Europe." He added: "This year will be the year of the people… the year of liberation, the year of the patriotic spring."
During his inauguration speech on 20 January, Trump advocated an "America First" nationalist policy. German Vice-Chancellor Sigmar Gabriel said Berlin is prepared to fill the gap created by an isolationist Washington DC, the New York Times reported.