Mark Halsey, who refereed Liverpool's clash with Manchester United on Sunday, has made a complaint to Great Manchester Police concerning a barrage of abusive tweets directed at him.
Halsey, who recovered from throat cancer to return to officiating in 2010, was subject of a series of messages on Twitter from Liverpool supporters following the game after he sent off midfielder Jonjo Shelvy and awarded United a second half penalty at Anfield.
Many of the messages concerned Halsey's recovery from cancer three years ago, and the 51 year old has confirmed a complaint has been submitted to police.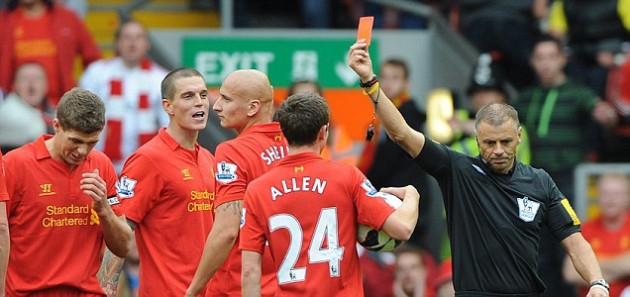 "I can confirm that my family have made a complaint to the police," Halsey told BBC Sport.
"I will be speaking to the police on Wednesday after I have returned from refereeing Southampton v Sheffield Wednesday."
The decision to send off Shelvy assisted in swinging a game which had been dominated by The Reds for long periods into United's favour, with the award of a penalty with 15 minutes to go, converted by Robin van Persie, eventually helping Sir Alex Ferguson's side to victory.
Liverpool's bad luck was compounded by Halsey's refusal to award Luis Suarez a second half penalty also, leaving manager Brendan Rodgers fuming at full time.
"Jonjo Shelvey, if he gets sent off, then Jonny Evans has to go as well. I think both players' feet are off the floor," he said.
"I'm sure it's never a penalty, and then obviously Luis Suárez goes up the other end and gets a toe to the ball and the defender doesn't touch the ball, and he goes down and it looks a penalty. That was out of our control."
Prospect, the match officials union, said: "Prospect wholeheartedly condemns the unacceptable abuse aimed at Mark Halsey on Twitter.
"The comments made by a very small minority will be seen as beneath contempt by all decent people. The main concern now is for Mark and his family, who are receiving the support of his employer, PGMOL [Professional Game Match Officials Limited]. Prospect will also provide any assistance as required."
The afternoon's game had previously attempted to create harmony between both Liverpool and United fans with a raft of joint tributes for the 96 fans who died during the Hillsborough disaster taking place pre-match.