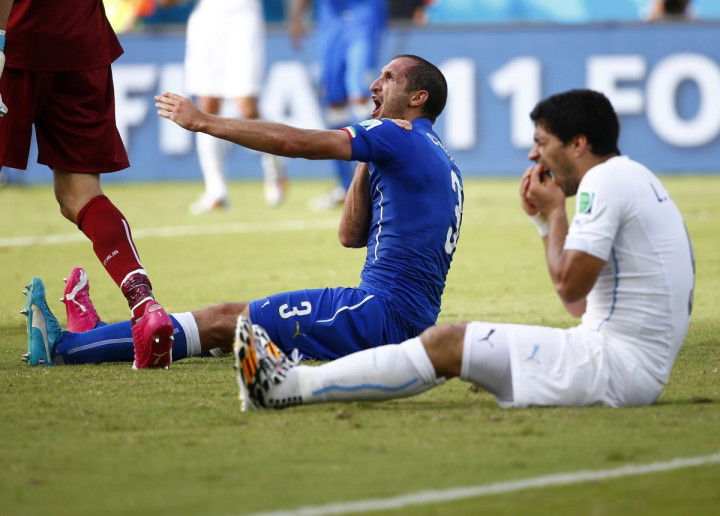 Liverpool legend Mark Lawrenson has urged the Reds to offload Luis Suarez in the summer transfer window.
The Uruguayan striker was involved in an incident during his national side's 1-0 narrow victory over Italy last week, where he dug his teeth into the opponent's defender Giorgio Chiellini's shoulders.
The football's governing body Fifa handed Suarez a four-month ban from all forms of the sport for his behaviour. The 27-year-old has done this in the past as he bit Chelsea's Branislav Ivanovic in 2013 and later there was an incident while he was with his former club Ajax.
The Anfield favourite and the former Reds defender believes it will be hard for the Merseyside club to trust Suarez and has urged Brendan Rodgers to sanction the sale of their star striker this summer.
"Liverpool FC can no longer trust Luis Suarez. And that's why they should sell the controversial striker this summer. Suarez has done this to himself. Nobody else is to blame," Lawrenson told the Liverpool Echo.
"To think it had been dubbed a year of redemption for Suarez. He had been extremely well behaved, played brilliantly and fully deserved his Player of the Year awards."
"In any case, I'd be very surprised if Suarez is still at Anfield come the start of the season. They just cannot trust him. Liverpool stood by Suarez after the Branislav Ivanovic bite scandal and got their rewards."
"But it's more than likely the forward will do the same to somebody else somewhere along the line. No matter how well Suarez plays, how many goals he scores, how many assists he has, it's going to come at a price."
"It was eight games for his bite in Holland (for biting PSV Eindhoven midfielder Otman Bakkal's shoulder). Ten for Ivanovic. How many will it be next time? Half a season?"
"He's no use to anyone when suspended for that many games, especially at more than £150,000 a week. Liverpool can no longer run the risk of that happening while Suarez is their player," the Reds legend concluded.
Meanwhile, Spanish giants Barcelona are reportedly keen on signing Suarez and the Uruguayan international has reportedly informed his close friends that he will leave Anfield and join the Catalan club in the summer transfer window.