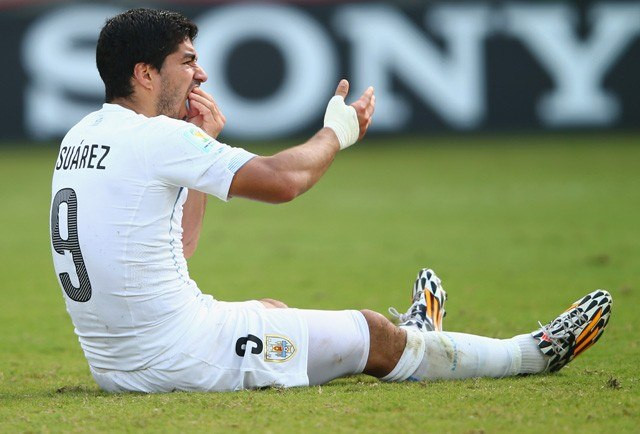 Luis Suarez's lawyer Alejandro Balbi arrived in Barcelona on Friday to meet with the Liverpool's star agent and discuss the striker's future as well as an appeal to his Fifa four-month ban, the attorney confirmed.
Suarez was banned by Fifa from all football for four months and handed a nine-match international ban after biting Italy defender Giorgio Chiellini during Uruguay's World Cup victory over Italy on Tuesday.
Nevertheless, the ban does not preclude a transfer and reports in Spain keep claim Barcelona are maintaining their interest in the Uruguayan.
Recent reports claim the Catalans are in advanced talks with Suarez who has also reportedly told his close friends he is likely to join the Catalans – while the negotiations with Liverpool have already started.
Suarez's lawyers has already spoken out about his client's future and the ban during a radio interview on Spain's Cadena Cope on Thursday evening, revealing that he will arrive in Barcelona on Friday to discuss both issues with the player's agent Pere Guardiola – who is Pep Guardiola's brother.
"Luis (Suarez) and Guardiola have asked me to travel to Barcelona to make an appeal and I am now about to take the flight," said Balbi.
When asked about whether the ban could affect the reported personal agreement with Barcelona, Balbi said: "We will talk about that tomorrow (Friday) with Guardiola during our afternoon meeting."
Balbi added he was disappointed with Fifa's ban.
"The punishment is disproportionate. Fifa have made him a scapegoat. If Fifa investigates everything, it will undermine football. Why didn't they investigate recent incidents with Pogba, Neymar and Pepe?"