Facebook co-founder and CEO Mark Zuckerberg has lashed out at Hollywood biopic The Social Network.
Directed by David Fincher and written by Aaron Sorkin, the film about the creation of Facebook was hugely successful back in late 2010, and came close to taking home the Best Picture Oscar that was eventually won by The King's Speech.
In a Town Hall Q&A held at Facebook's California headquarters however, Zuckerberg said that he thought large parts of the film's story were made up.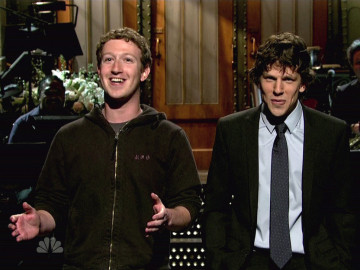 "I think the reality is that writing code and then building a product and building a company is not a glamorous enough thing to make a movie about, so you can imagine that a lot of this stuff they had to embellish or make up", Zuckerberg said.
"They went out of their way in the movie to try to get some interesting details correct like the design of the office, but on the overarching plot - they just kind of made up a bunch of stuff that I found kind of hurtful."
Zuckerberg admitted that he hasn't yet met Sorkin or most of the filmmakers, but did once meet the actor who portrayed him, Jesse Eisenberg. "I tried to be nice," he said with a wry smile.
In particular he took issue with the suggestion made in the film that his reason for creating Facebook was to meet girls. "One important piece of context is the woman who I'm married to (Priscilla Chan) who I've been dating for more than ten years, I was dating her before I even started Facebook.
"So if somehow I was trying to create Facebook to find more women that probably wouldn't have gone down too well in my relationship."