Despite selling more iPhones than ever before, and reporting record revenue and profits, Apple's share will likely open almost 10 percent down as Wall Street remains unconvinced.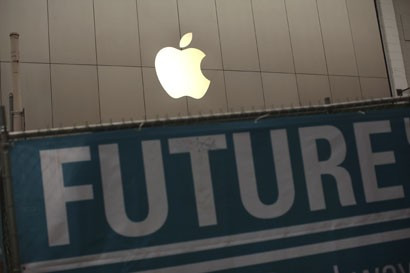 Tim Cook, CEO of Apple, in an earnings call following the release of Apple's record figures, said: "No technology company has ever reported these kinds of results." Even by Apple's own very high standards these results were huge.
10 million more iPhones sold in the last three months of 2012 than the highest previous quarter. Five million more iPads sold than in any previous quarter. The highest revenue ($54.4bn) and profits ($13.8bn) ever recorded by a company known for reporting huge revenue and profits.
Yet, as the Nasdaq prepares for another day's trading, Apple shares are likely to open at their lowest level for a year, down almost 10 percent in pre-market trading to below $470. Investors are simply unsure of what Apple's future holds, as supply constraints and lower-than-expected iPhone sales lead people to question the company's true value.
It was at this time last year that Apple's shares began their upward trend, which culminated in a record share price of $705 last September. However, as the old adage goes, everything that goes up, must come down, and so the last four months have seen a steady decline in Apple's share price.
In the earnings call last night, both Cook and Peter Oppenheimer, Apple chief financial officer, highlighted the fact that supply constraints were one of the main reasons why sales of the iPhone, iPad and iMac weren't higher.
Cook said the company simply couldn't get their hands on enough iPhone 5s in the early part of the quarter to meet demand, though this eased slightly towards the end, when sales grew. Supply constraints for the iPhone 4 remained in place throughout the quarter.
Problems
Apple had similar problems with the new iMac, with sales down 700,000 according to Cook and overall Mac sales down over one million compared to the same period last year.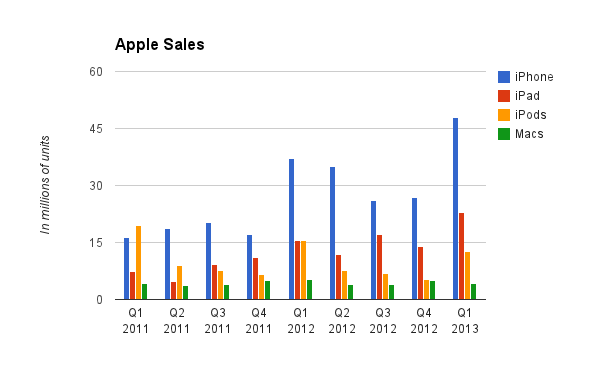 These issues stem from Apple launching all its new products at once. The quarter saw the launch of a new iPhone, two new iPads, a new MacBook Pro, two new iPods, a new Mac Mini and the redesigned iMac. Managing the supply channels for all these products at once has proved difficult for Apple.
It could mean we see a more staggered launch of Apple products throughout 2013, rather than one big announcement when every new product is launched.
Another problem facing Apple is that it missed - for the second quarter in a row - Wall Street expectations. While a lot of people cannot reconcile record revenues and sales with a miss, for investors this is a key factor in judging how they value Apple's stock.
Possibly as a result of this, Apple has decided to change the way it gives guidance for the current quarter, now giving a range of possibilities rather than one, conservative estimate.
For the current quarter Apple has estimated revenues of between $41bn and $43bn, which is again down on what Wall Street had predicted.
Reaction
Looking at the reaction from market watchers and analysts following the result, we can see diverse opion reflecting the uncertain nature of Apple's 2013 performance.
One such Apple watcher is Professor Loizos Heracleous from Warwick Business School, who says those writing off Apple after its disappointing earnings update are premature.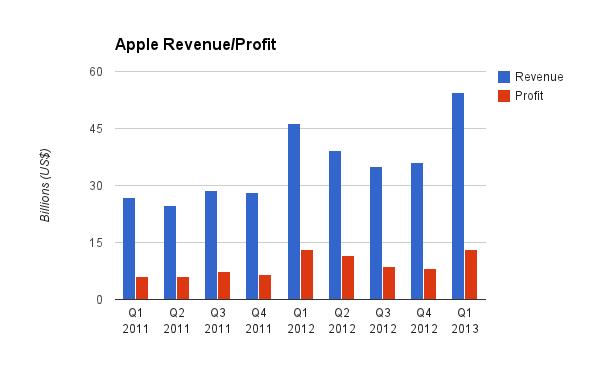 "Apple is thought by many to have posted poor results, but this would be a rushed assessment. Apple's revenues continued growing at a fast pace, with an 18 per cent rise over the previous year and 25 per cent more when adjusting for the fact that this quarter was for a 13-week period while the previous year was for 14 weeks."
He added: "Stock markets react, and sometimes overreact, immediately, but what matters is the big picture and Apple seems to be on a solid footing by that measure. Even though its shares fell based on the earnings announcement, this could be a useful correction."
Business Insider has compiled a comprehensive list of Wall Street reactions to the Apple results, with Piper Jaffray say it is remaining "optimistic" about Apple share, while Nomura believes the results re-enforce its belief that Apple is moving into an "ex-growth phase."
JP Morgan reiterated its price target of $725 for Apple shares by December 2013, while Deutsche Bank reset estimates and cut its price targets to just $575. Even Topeka, one of Apple's strongest advocates on the Street has revised downwards its estimate from the frankly risiducous $1,111 to the slightly less ridiculous $888.
The only thing that's clear from all the reaction to the Apple results is that no one seems to have a solid grasp on what will happen next.