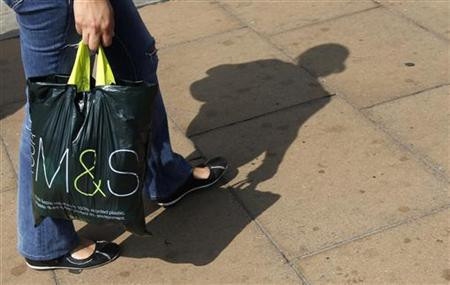 Shares in Marks & Spencer were up on the FTSE 100 ahead of the group's half year results, expected tomorrow.
In its second quarter statement the group expressed caution about its outlook despite total sales rising 6.5 per cent during the period. The group also reported a 5.3 per cent in UK like for like sales.
The group said that despite an increase in sales it was concerned about tough comparatives, rising cotton and energy costs and the rise in VAT to 20% in January.
Keith Bowman, analyst at Hargreaves Lansdown, said of tomorrow's results, "The figures themselves may well prove to be overshadowed by the still relatively new Chief Executive Marc Bolland's expected strategic update. Speculation suggests international expansion could provide a drive, whilst the group's fast growing online offering is likely to remain a focus. Furthermore, if a similar strategic review at Mr Bolland's former employer (Morrison Supermarkets) is anything to go by, a defining and differentiating of the brand could also prove to be a core feature. Market consensus opinion currently denotes a hold ahead of the results."
By 16:05 shares in Marks & Spencer were up 0.83 per cent to 411.70 pence per share.