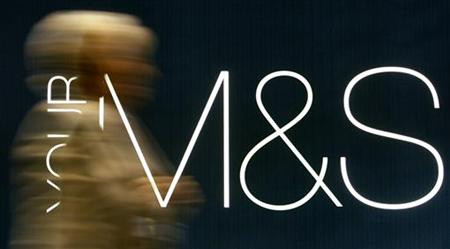 Shares in Marks & Spencer were up on the FTSE 100 in morning trading after the retailer reported a rise in sales in the fourth quarter ended 2 April 2011.
The group said that sales were up 2.3 per cent, with total sales in Britain rising 1.0 per cent. Sales of general merchandise in M&S' British stores were down 3.4 per cent, while food sales rose 4.9 per cent.
On an underlying basis group sales were up 4.2 per cent, with total underlying sales in Britain rising 3.2 per cent. General merchandising goods saw sales growth of 1.2 per cent and food sales were up 4.9 per cent.
Internationally Marks & Spencer sales increased 12.6 per cent, although they were offset to a degree by bad trading conditions in Ireland and Greece. Marks & Spencer Direct sales grew 13.7 per cent.
Marks & Spencer said that sales of general merchandise were "in line" with its expectations, given the tough comparisons, adding that it had grown market share and seen strong growth in sales of menswear and lingerie.
The group's food sales also saw a growth in market share and a rise in sales of its healthy food brands.
The company said it was "cautious" in its outlook, saying it expected "increasingly challenging" trading conditions thanks to pressure on consumers' disposable incomes and higher commodity prices.
Marc Bolland, Chief Executive of Marks & Spencer, said, "We had a good fourth quarter in a challenging trading environment. In times like these customers are increasingly turning to M&S for value, quality and innovation. Strong products backed by great advertising meant we outperformed the market and grew share in both Food and Clothing."
"The plans we laid out in November continue to build momentum, demonstrated by our collaboration in Home with Sir Terence Conran, our 'bricks and clicks' return to France, and, importantly, our ability to attract best in class talent."
Keith Bowman, Equity Analyst at Hargreaves Lansdown Stockbrokers, commented, "Against a backdrop of pressured consumer finances, M&S has exceeded expectations. The group's trusted brand, aided by an extensive marketing campaign, appears to have played to its strength, whilst overseas and online sales continue to be pursued.
"On the downside, management outlook comments are understandably cautious, whilst the group, like rivals, continues to see profit margins under threat from rising commodity prices such as cotton. Furthermore, attempts to expand overseas have been seen before, whilst the group's store modernization programme is far from complete, providing costs and disruption in the meantime.
"In all, and with market share gains being made, today's update reminds investors that M&S is still a force to be reckoned with. However, with considerable structural changes such as the rise of the internet still to consider, competition intense, and the environment for consumers challenging, market consensus opinion currently denotes a strong hold."
By 09:00 shares in Marks & Spencer were up 4.20 per cent on the FTSE 100 to 354.50 pence per share.