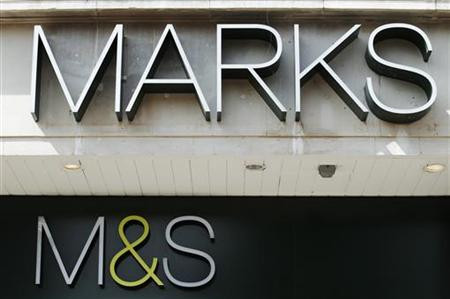 Shares in Marks & Spencer were down on the FTSE 100 after the group said it was "cautious" of the future following the recent announcement of a rise in VAT, despite reporting a rise in group sales of 4.4 per cent in the first quarter ended 3 July.
The retailer said that its total UK sales rose 4.8 per cent, with General Merchandise sales up 7.0 per cent and Food sales rising 2.9 per cent.
Like for like sales in the UK increased 3.6 per cent in the period, with General Merchandise like for like sales up 6.0 per cent and Food up 1.5 per cent.
Sales at M&S Direct sales were up 49 per cent while International sales increased by only 0.9 per cent, thanks to "an adverse impact from currency translation and continued difficult trading conditions in certain markets".
The company said that while it felt it had made a good start to the year it was "cautious" about the outlook of consumer confidence due to the rise in VAT, announced in the recent Budget.
Marc Bolland, new Chief Executive of Marks & Spencer, said, "Marks & Spencer has delivered another good sales performance in the first quarter, continuing the progress made by the team over the previous year. We have continued to grow market share across all parts of the business as customers recognised the strength of the Marks & Spencer brand and the great quality and value it represents."
Richard Hunter, Head of UK Equities at Hargreaves Lansdown Stockbrokers, commented, "The update is solid if a little unexciting, with sales marginally outpacing expectations.
"The accompanying statement was inevitably cautious, highlighting in particular next year's increase in VAT. In the background, concerns still linger around the staff pension deficit and ongoing pressure on margins. On the other hand, the company is focusing on an efficiency programme, whilst being underpinned by its significant property portfolio. The increase in sales at the online unit provides further reassurance, and there are some faint signs that the company may be able to recapture some of its former glory.
"In all, the share price has held up relatively well, dropping 7% over the last three months, during which time the wider FTSE100 has shed 14%. Even the rebased dividend provides some support, but the update is unlikely to improve the current market view of the shares being a hold, with more potential to be found elsewhere."
By 08:25 shares in Marks & Spencer were down 2.38 per cent to 344.30 pence per share.