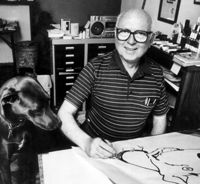 Brad Anderson, the creator of the mischievous and overly curious Great Dane called Marmaduke has died on 30 August at the age of 91.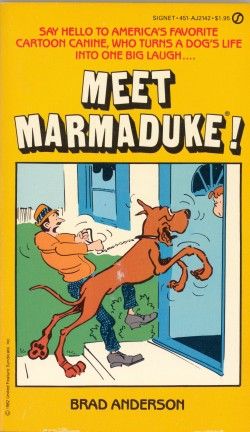 His syndicate, Universal Uclick confirmed his death. Anderson created Marmaduke in 1954, which the National Cartoonists Society described as "one of the most well-known and enduring comic strips ever".
After 61 years of drawing Marmaduke, he still continued drawing the cartoon strip with the help of his son Paul. The cartoon strip is syndicated by Universal Uclick in over 500 newspapers in 10 countries. The Great Dane was adapted into an animation by Ruby-Spears in 1980 and has appeared in a feature film in 2010, featuring actor Owen Wilson as the voice of Marmaduke.
Anderson received the Milton Caniff Lifetime Achievement Award from the National Cartoonists Society in 2013.
"The NCS and the world of cartooning lost one of its true luminaries last week with the passing of Brad Anderson, creator of the comic 'Marmaduke'," the society said.
A fan said on twitter: "RIP marmaduke you must have made millions of kids life a better place."
Anderson, who was born in Jamestown, New York, first sold a cartoon to the Flying Aces magazine when he was 15. After serving in the Navy during the second World War, he got a degree in Fine Arts before venturing into advertising. He turned back to cartooning to become a syndicated strip artist in 1954 with Marmaduke.
In an earlier interview, he said: "Marmaduke is very expressive and very active, and he's always doing something funny or ridiculous or crazy. He's always jumping over the couch, chasing after a cat. In the car, he wants to take over and drive."
It is unclear what the fate of the Marmaduke strip will be, Comic Book Resources said.