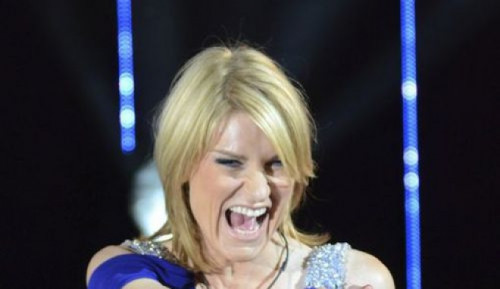 Sally Bercow was forced to defend her marriage after being snapped snogging a muscle-bound mystery man at a London nightspot.
House of Commons speaker John Bercow's wife was wearing a wig as a disguise when she got up close and personal with the man at a West End venue in the capital.
A witness told The Sun: "it was very intimate."
Bercow took to Twitter and insisted the image was "totally out of context" after the kiss became public.
She aped her infamous tweet about Lord McApline which landed her with a huge libel bill by writing: *innocent, totally out of context face.* Totally missing."
She added: "It's (sic) looks bad, but so isn't."
Bercow later accused the paper of "shoddy journalism", complaining that she was not given the opportunity to respond prior to publication.
Fellow MP and shadow Chancellor Ed Balls didn't miss the chance to get involved. He tweeted Sally: "What have you been doing?"
Husband John has not reacted to the intimate photograph.
.