Students at a Jewish school in Marseille have voiced their concern that the controversial quenelle gesture - created by French comedian Dieudonné and deemed anti-Semitic - could encourage anti-Jewish sentiment in the Mediterranean city.
Dieudonné's trademark gesture, described by his critics as an inverted Nazi salute, has been emulated by scores of people from West Bromwich Albion striker Nicholas Anelka and NBA star Tony Parker to the founder of France's far-right National Front party, Jean-Marie Le Pen.
Anelka, who announced he will contest the charge imposed upon him by the Football Association following his controversial goal celebration against West Ham United in December, has claimed the gesture is not anti-Semitic.
He denied the quenelle is offensive and is instead anti-establishment.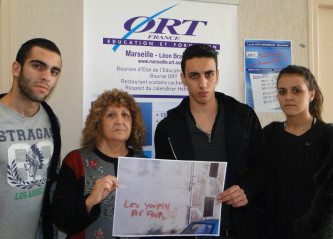 However, students and staff at the ORT Leon Bramson School in Marseille, where 80,000 Jews reside, insist that the gesture shines light on spreading anti-Jewish sentiment in the country.
"I feel that we're going back to 1933," Sacha Sellam, 18, wrote on Facebook on the ORT page. "When I watch the television and use social networks I see the hatred of Jews again, everything is blamed on the Jews."
"As a Jew I feel threatened by the quenelle and everything associated with it," said another student, Lucas Mattout. "It's a real problem, not a flash in the pan. This is how it started in 1933."
Dieudonné, whose full name is Dieudonné M'bala M'bala, has six convictions for hate against Jews and has to pay €65,000 (£53,000) in related fines.
On anti-Semitic sites and social networking forums, users have posted pictures of themselves performing the quenelle in front of Jewish sites and Nazi concentration camps.
In September, two French soldiers were disciplined for performing the quenelle in front of a synagogue and posting the picture online.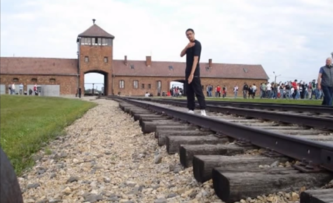 It was also performed in front of Auschwitz and in front of the Jewish school in Toulouse where three children and a teacher were murdered in 2012.
On 15 January, the ORT school's perimeter wall was sprayed with anti-Semitic graffiti reading "Les Youpin au four" (Yids to the oven).
"The general opinion among students is rage and disbelief that such a situation could be happening in 2014," said English teacher Lisa Dahan.
The International League against Racism and anti-Semitism, which is fighting racial discrimination, told CNN that in 2012 there was a rise of 59% in anti-Semitic attacks. There were 1,539 racist and anti-Semitic attacks in 2012, a rise of 22%, according to the French interior ministry.