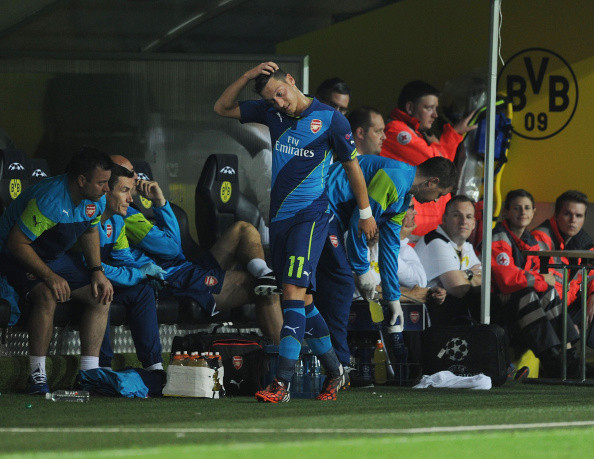 Former Arsenal star Martin Keown has urged manager Arsene Wenger to deploy Mesut Ozil back in the number 10 role, rather than on the flank, to get the best out of him.
Following his £42.5m move from Real Madrid, the German international had a promising start to life at the Emirates Stadium during the first part of last season, but has since struggled to replicate his best form in La Liga.
Ozil returned to North London this summer with his reputation burnished as a World Cup winner, but has been questioned again after his erratic performances during the Premier League clash against Manchester City on Saturday and the Champions League defeat to Borussia Dortmund on Tuesday.
Nevertheless, Keown suggests that Ozil is not the only one to blame as Wenger is deploying him out of his preferred position to accommodate Alexis Sanchez, Jack Wilshere and Aaron Ramsey.
"I'm beginning to wonder whether he has to play in the middle to get back to his best. He was much more involved in a central role at Real Madrid and his assist rate was among the best in Europe. So you have to wonder if Arsene Wenger might want to think about moving him back into the middle," Keown said during a question and answer session with fans in the Daily Mail.
"But it wasn't a great team performance on Tuesday, so it's not fair to single out any one individual player. People will say it's another indifferent game from him but to be fair it has been a tough few games against City and Dortmund, two top sides."
When questioned about where should play Sanchez, Keown said: "I think he looks more effective coming in from a wide position.
"But he needs to simplify certain elements of his play and he and Danny Welbeck need time to build up their relationship on the training pitch. Sanchez takes a lot of touches of the ball and the team copy his enthusiasm. But I think I'd like him to slow it down just a little.
"If Arsenal go with one up front, then Sanchez should be the wide man. Then the combination play needs to be worked on. Theo Walcott likes to go for the line, but Sanchez has the same pace and likes to run inside with and without the ball. When he does come inside, Welbeck needs to stretch defences more.
"Sanchez will chip in with his fair share, but not in the same way as [Diego] Costa. At the moment it's more about the relationship between Sanchez and the players around him. He gets smothered by defences sometimes."