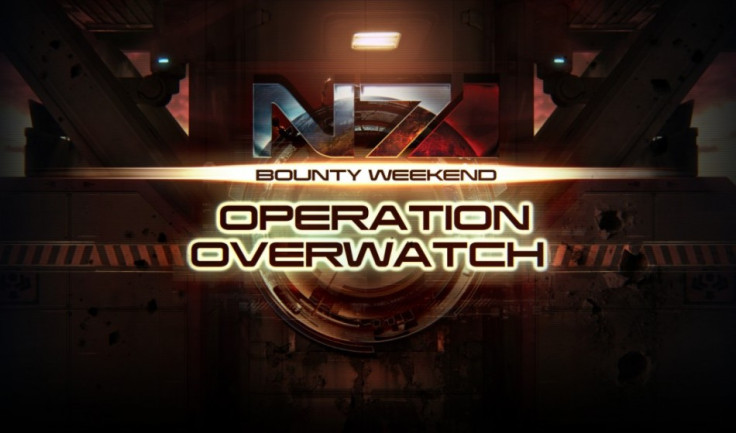 Fans of the sci-fi action-adventure video game Mass Effect 3 (ME3) may still be coming to grips with the challenging missions on offer in the new Earth DLC maps for the multiplayer campaigns. Unfortunately for them, developers BioWare has unleashed yet another N7 multiplayer weekend event - this will start at 10 am PST on 27 July and finish at 5 pm PST on 30 July.
The event, feeding of the success of earlier N7 missions, will encourage ME3 fans to earn special Commendation and Victory Packs as rewards for successfully accomplishing given allied and squad goals of extraction.
The forthcoming event - Operation Overwatch - requires players to fight Reapers on Earth maps and the survival of allied members is the key for successful extraction. In addition, players have to ensure that at least one member of their four-man squad is imported from one of the new classes introduced with the free Earth DLC pack.
The mission synopsis reads: "Operation OVERWATCH drops troops on Earth to tackle the most secure Reaper strongholds. Reaper anti-air defense will make for high-risk shuttle extractions.
Here is the complete list of objectives as announced on the BioWare blog:
Squad Goal: Extraction on any difficulty with at least one squad member using an Earth Pack character
Allied Goal: Extract 800,000 individual players on any difficulty, with each live member counting toward the goal
Squad Goal Success: All squad members awarded a Commendation Pack
Allied Goal Success: All players awarded a Victory Pack that includes a new Earth character
Special Circumstance: Extraction time lengthened due to failure of Operation Broadside
Requirement: Mass Effect: Earth must be installed to earn these rewards
ME3 players should also ensure that the Earth DLC is pre-installed with online feedback enabled to be eligible for rewards after completing their allied and squad goals during the weekend event - Operation Overwatch.