'Mass Effect 3: Operation Savage' N7 Multiplayer Weekend Announced [SPOILERS]
'Mass Effect 3: Operation Savage' Hits PC and Consoles on 22 June, Starts at 6 pm PST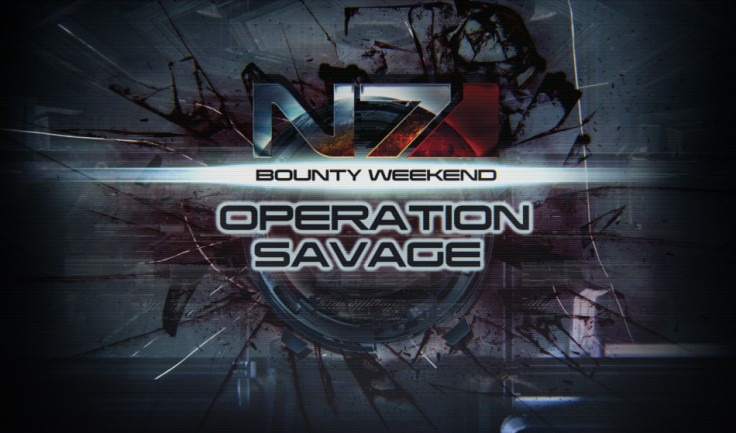 BioWare has announced a multiplayer bounty weekend - Operation Savage - and invited players from around the world to take on Reapers, Geths and Cerberus, starting Friday, 22 June. As usual the event features two distinct goals comprising community and squad goals.
The main mission of the player community or Allied goal is to kill 7,000,000 trooper enemies before the time runs out, while the squad goal is to survive co-op mission through extraction on any difficulty including a mix of Korgan, Vorcha or Batarian classes. While the squad team can have any combination of the aforementioned classes, other races will not count for the squad mission. As Neoseeker notes, even soloing matches are permitted and full extraction isn't required either; which makes the squad goal virtually a freebie of sorts.
The Allied team members are entrusted with the task of eliminating massive numbers of Husks, Cannibals, Geth Troopers and Cerberus Assault Troopers in their quest to win the Victory Pack comprising a random selection of special rewards.
"With so many planets conquered in Council space, we are relying on material support from the Terminus Systems. Eliminating risks to our supply line is a top priority," reads the message on BioWare's official blog.
You may recollect that Vorcha class was introduced with the free Rebellion DLC released back in May. On successful completion of the squad mission, each of the players will get a Commendation Pack. Critics and sceptics might yearn for a little more creativity with the weekend events, as the results are becoming increasingly predictable while the mission challenges sound monotonous. There is no real demand for players to adapt and it seems high time for BioWare bring in some changes to multiplayer gameplay.
Operation Savage is scheduled to kick off at 6 pm PST on Friday, 22 June and conclude at 4 am PST on Monday. Reward packs will be distributed on Tuesday evening if the mission is successful.
© Copyright IBTimes 2023. All rights reserved.