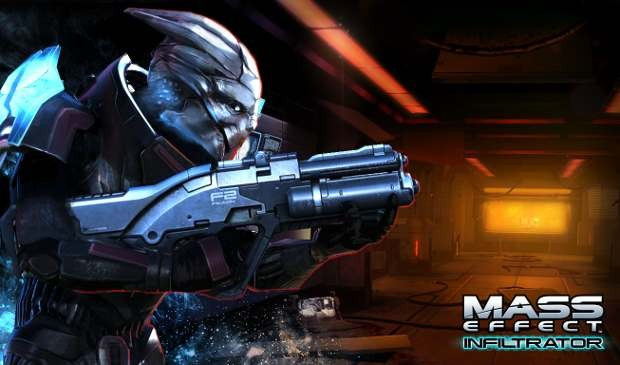 IronMonkey Studios, the makers of Dead Space and Mirror's Edge for mobile platforms, have also taken credit for introducing Mass Effect to iOS. The renowned game developer added one more feather to its cap by unleashing Mass Effect: Infiltrator on Android devices through Google Play.
Mass Effect: Infiltrator is a sci-fi shooter riding on the success of Electronic Arts' best-selling game franchise. The game is priced at £4.5 ($6.99) and will be supported on Android 2.2 and higher versions. The game is, for now, limited to the US but it will invade other parts of the world in the coming weeks.
The game puts you in the shoes of a Cerberus rogue agent - Randall Ezno - who must escape the Cerberus base alive, while stealing information for the Alliance. Randall is equipped with advanced combat gear and sophisticated weapons to battle through waves of biotic enemies. The Mass Effect Infiltrator game features well designed and appealing massive exteriors of the Cerberus base.
The game play involves tapping on-screen controls and swiping across the screen to combat the enemies and eventually progress to the boss battles. Packed with great weapons and biotic powers, the agent will also let you sneak around with the stealth cloak. If you get discovered, perform a melee attack to kill the opponent in close range. The consequences of your action in the mobile version of the game eventually affect your Galactic Readiness in the main course of the Mass Effect 3 (ME3) game.
Mass Effect Infiltrator game is an 8.3MB download but will require downloading additional game files worth 450 MB before running the game. Such a massive download surely demands a good WiFi connection.
For all those who finished the main single-player campaigns, BioWare has released new updates comprising a new character and mission for the mobile version - Mass Effect: Infiltrator.
Watch this Amazing Video Trailer - Mass Effect 3: Infiltrator for Android:
MUST READ: 'Mass Effect 3: Extended Cut' DLC: Admiral Hackett and EDI Will Be Back [SPOILERS & VIDEO]
MUST READ: 'Mass Effect 3: Operation Shieldwall' Multiplayer Weekend Punishes Players [SPOILERS]