Chelsea Set to Reject Manchester United Bids for Juan Mata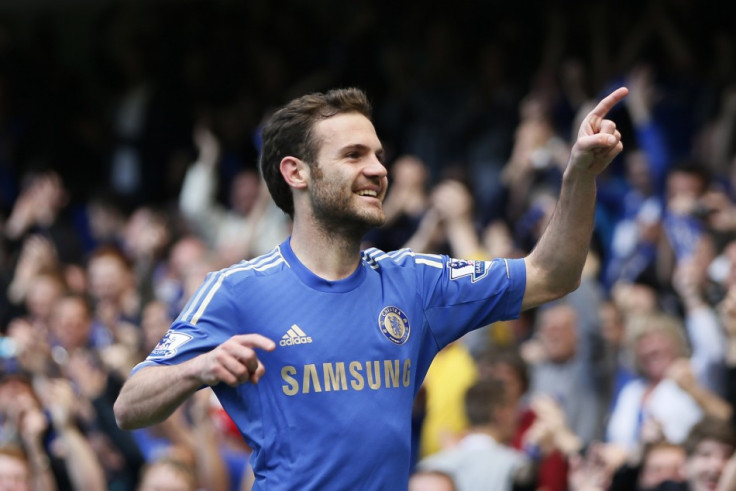 Chelsea manager Jose Mourinho has suggested Manchester United's attempts to sign Juan Mata will be rebuffed after declaring his intention to retain the Spanish playmaker.
Mata finished as the Blues' Player of the Year after a season in which he scored 20 goals and made 28 assists as the club won the Europa League and finished third in the Premier League.
But since Mourinho returned to Chelsea for a second spell as manager, speculation has grown over Mata's role at Stamford Bridge, with United briefing press during pre-season that the west Londoners had offered the 25 year old as part of a deal to sign Wayne Rooney.
The story was rejected by Chelsea but rumours regarding Mata's future have continued to persist after he was left out of the club's opening day win over Hull City. The Spaniard started in mid-week against Aston Villa but was replaced after 65 minutes.
Recent reports have suggested that United have made an enquiry over the future of Mata and Mourinho has hinted that any offer would be rejected by Chelsea with the Portuguese boss determined to keep the ex-Valencia schemer.
"No speculation, no speculation," said Mourinho. "He's a player we all like, he's a player we all want to keep. We want more quality in the team, we don't want less quality.
"We want to add quality to the quality we have. So Juan is not a player we want to lose.
"The point is not to sell, the point is I want a 22-player squad. So if somebody comes... Do we need to sell? No, we don't.
"Do we need to loan, probably yes because I don't like to work with big squads, I like to work with a small group of players and I think 22 is a perfect number to answer to our needs in four different competitions, and at the same time to leave the door open for some kids to come out and train with us, to be selected in a few matches."
United and Chelsea square off in the Premier League on Bank Holiday Monday in a game which will test both side's claim to be the favourites for the title.
Mourinho has made no secret over his desire to add a striker in the remaining days of the transfer window, with Rooney among his favoured targets with two bids already rejected by United for the England striker, who handed in a transfer request at the end of last season.
The 51 year old has already ruled out a third bid for Rooney before the two side's face each other at Old Trafford on Monday, and despite an additional offer being expected in the final week of the window, Mourinho will face stern resistance from the Premier League champions who have remained constant that their primary asset is not for sale.
Manager David Moyes is yet to make a significant signing in the summer transfer window but is known to want a new midfield player having had bids rejected for Cesc Fabregas and Marouane Fellaini.
It is yet to be seen whether United and Chelsea will compromise in order to sign their preferred targets in the final days of the transfer window but neither Moyes or Mourinho have made a secret of their desire for additional resources.
© Copyright IBTimes 2023. All rights reserved.