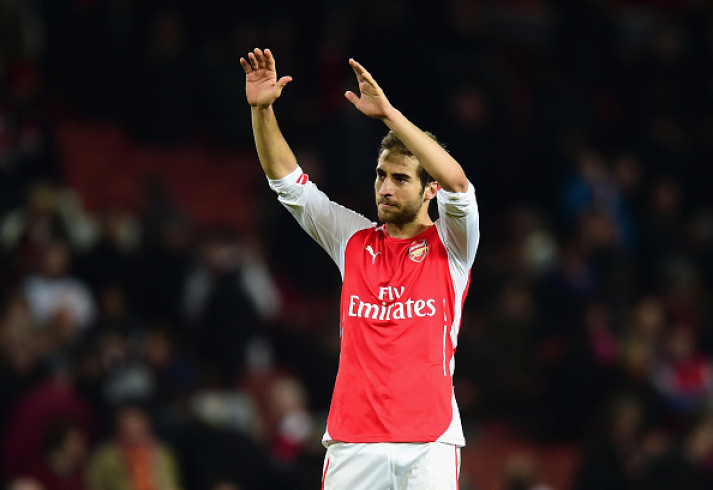 Mathieu Flamini thanked Arsenal's supporters for playing a "big role" in his career after scoring a brace in the 2-1 victory over Tottenham Hotspur on 23 September to send the Gunners to the fourth round of the League Cup. The French midfielder ended the game as the unexpected hero of Arsene Wenger's side but admits his situation at the club is "not easy" as it was his first appearance of the campaign.
The 31-year-old central midfielder has seen his playing time restricted since the return of Francis Coquelin from his loan move at Charlton Athletic in December 2014. With both his compatriot and captain Mikel Arteta ahead of him in the manager's pecking order, Wenger confirmed Flamini's future at the club was under scrutiny during the summer transfer window.
"I told him at the start of the season it might be difficult for him to be a starter but he decided to stay and he did fight," the manager admitted. "I fought to keep him but he is at an age where you always consider what it is important at that age, which is to keep focused and stay in the team. If they do not manage to do that it is better you let them go, but he wanted to stay."
Having failed to feature a single minute in the Premier League this campaign, Flamini has admitted his situation is not easy but hopes his heroic performance against Arsenal's north London rivals helps him get more opportunities in the forthcoming games.
"This was my first start this season so it's not easy when you don't have a lot of competition [time]. What's important is that we did well, I did well and now it's important to recover," Flamini said to Arsenal Player.
"Today I want to congratulate the guys because they had a great game, a great performance and they showed a lot of solidarity on the pitch. I think that's important, especially after two defeats. Today we started with a new dynamic."
It was the first time in his career that Flamini scored two goals in one game. The midfielder dedicated both strikes to the fans as a thank you for their support during his time at the club. He said: "The two goals were for them. They've always supported me, they've all been behind me and they've played a big role in my career. It was important for me to celebrate with them and nobody else.
"It was the first time I've scored two times in a game. [It's good] to score against Tottenham in a derby in such an important game for Arsenal and the fans. For me [it's special] to play against Tottenham in a game that has always been important in my career. It was my first game when I came back to Arsenal and to score two goals today and here was important for me."