Mahendra Singh Dhoni has hit among the most important runs in recent Indian cricket history. In Mumbai in 2011, Dhoni's thumping six over mid-wicket against Sri Lanka delivered the World Cup on home soil. The following year, against Australia, the skipper struck 12 from four balls to bring his country a first-ever win in Adelaide, and then on Sunday the 31-year-old hit the winning runs to confirm a 4-0 series whitewash against the Baggy Green.
Similarly, Sri Lanka's Kumar Sangkkara has etched a career as one of the most dominant wicketkeeper-batsmen of the modern era, taking the reputation of the man who pioneered the role, Adam Gilchrist, and adding some permanence. Possessing the second-highest batting average of any currently active player, behind Cheteshwar Pujara who has played only 13 tests, the middle-order aficionado can lay his own equally impressive claim to being the best glovesman come batsman in the world game; he holds the joint record for the fastest player to 10,000 runs, alongside Sachin Tendulkar and Brian Lara no less.
But after Matt Prior added another string to his bow, in keeping out New Zealand on the final day of the third test at Eden Park with a memorable hundred along the way, the Englishman can now himself be regarded among the finest players ever to combine the dual role of stumper and strokemaker, combining efficiency behind the sticks with the ability to build an innings of grit and wizard-like stroke play.
Wicketkeepers have seemingly always been brought up as pullers, hookers and cutters; cricketing conformity is alien to these jack-of all trades players. Prior's early test career had shown him to be no different, a player whose natural game was a source of equal enjoyment and frustration.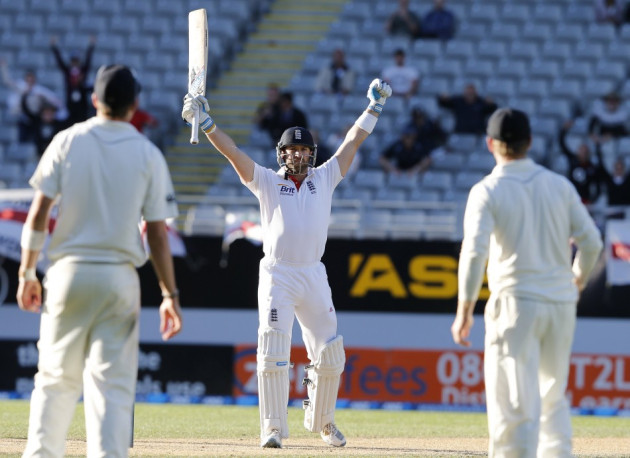 On debut, his near run-a-ball 126 not out against the West Indies was a sign of things to come. With a strike-rate that has rarely dipped below 60, Prior rarely bats to the situation, and his innings in Auckland was no different.
The regularity of his contribution is now his primary weapon; and thus the reason why he becomes reliable rather than a luxury in the lower middle-order. Centuries have come against all the major test nations, bar South Africa, against whom he has still scored five half-centuries.
His 2012 might have been barren, but scores at Leeds and then Lord's, where he almost led England to an series-levelling win against The Proteas with a 73 which combined resilience and attacking intent akin to his effort in New Zealand, showed himself to be important in any situation, rather than a batsman who can only thrive a specific enviroment.
The lack of a wicketkeeper category in the International Cricket Council player rankings means any debate over the world's finest exponent of both disciplines can never have a definitive answer. But just like Dhoni and Sangkarra's careers have hinged upon telling knocks, England's own Mr Reliable is starting to exert his own influence.