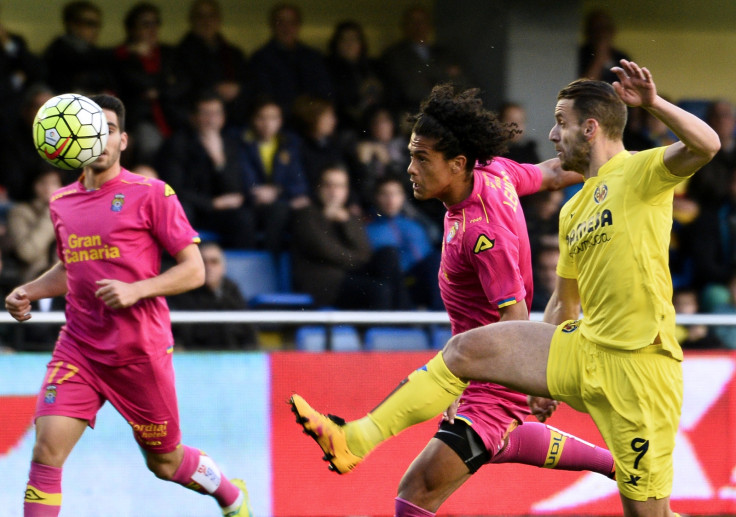 Las Palmas vice-president Nicolas Ortega has told Barcelona to meet Mauricio Lemos's full release clause should they want to sign the player, amid suggestions Real Madrid will also be competing for his transfer. Ortega has repeated that the Catalans' first offer for the Uruguayan was insufficient, adding that there is another La Liga club interested in the player.
Las Palmas only signed the 20-year-old defender two months ago, activating an option to secure his services permanently following his January arrival on loan from Rubin Kazan. Barcelona were impressed by his start to life in La Liga, and last month launched a bid said to be worth €4m plus add-ons to bring him to the Nou Camp as a prospect for the future.
However, Las Palmas general director Toni Cruz later revealed the club had turned down the proposal, deeming it insufficient. Cruz continued that the player's release clause was €30m (£23.7m, $33.5m), but suggested they would be open to negotiating below that figure.
Mundo Deportivo and Sport then claimed that Barcelona were ready to make a new improved bid over the €10m barrier to complete the deal.
However, the negotiations took a surprise turn after reports in Spain claimed Real Madrid were considering joining the race for his services.
Lemos himself admitted he was flattered by the news, but refused to say whether he would rather move to Barcelona or their archenemies.
The player said to Canarias 7: "I have just found out about the news that Real Madrid have also asked for me. It makes me very excited because to see my name linked with two big clubs from Europe is something anyone would like. At the moment I'm at home, with my people, and enjoying the holidays. Until there is something concrete with a team I do not want to think about it. Obviously it excites me to be on the agenda of the big clubs but, until things are closed, I will just continue enjoying my holidays with my family and my friends in Uruguay."
It had been said Las Palmas would be ready to let him leave for around €12m, but now it seems they are ready to take advantage of the battle between the two Spanish giants to make the most from his sale. The club vice-president has referred to the €30m release clause of the player as the starting point for the negotiations, although suggesting they will be open to parting ways with the player for a lower fee.
"If someone asks for Lemos, [we will ask for] the release clause," Ortega said to Onda Cero, as quoted by Sport. "There are several teams that have expressed their interest but then not consolidated [with an offer]. There are intermediaries, people who make comments and influence inthe negotiations for their vested interests. I know Barcelona [are in the race] as that is already public; it is said that Real Madrid are also pushing strong and there is another further team interested. All the clubs interested are Spaniards. We will refer them to the release clause and according to the offer made [we will negotiate]. But of course it must be much bigger than the one made by Barcelona."