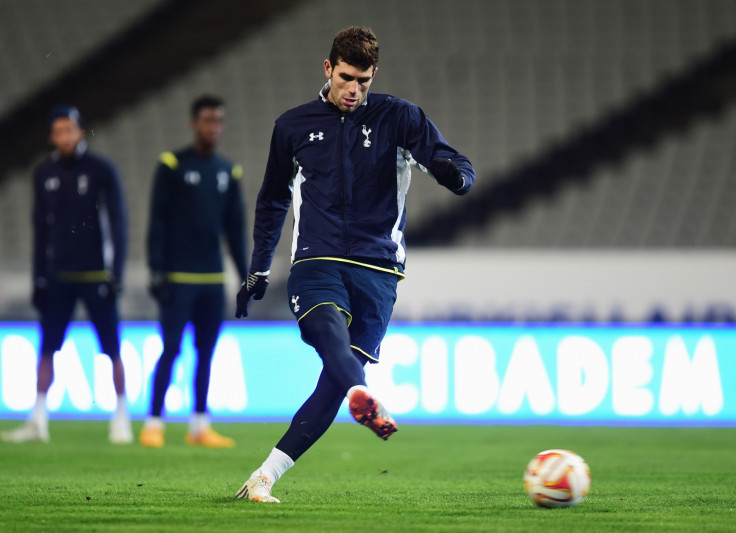 Spurs boss Mauricio Pochettino has refused to blame Federico Fazio and Michel Vorm for the "disappointed" 2-1 League Cup elimination against Arsenal on 23 September even though they could have done better in the two goals conceded. The Argentinian boss claims his side performed well and deserved a better result, despite his resting eight starting players ahead of the game against Manchester City on 26 September.
Fazio moved to White Hart Lane in the summer of 2014 after Pochettino lured him from Sevilla as he knew him well from his time in La Liga. But after a poor debut season in the Premier League and following the arrivals of Toby Alderweireld and Kevin Wimmer he was close to leaving the club during the summer transfer window.
Instead, he stayed at the club to be the fifth choice centre-back, failing to play a single minute in the first six Premier League games of the campaign and also in the Europe League opener with Qarabag. Pochettino, however, gave him a chance to prove him wrong in the League Cup and he did little to justify his first appearance of the campaign, playing a part in both Mathieu Flamini's goals.
But Pochettino backed him after the game while also defended his decision to deploy second keeper Vorm. "No, I don't regret playing Fazio," Pochettino told Sky Sports. "You can make mistakes and in football it always happens. They are not machines.
"Today he played because he deserved to play and afterwards you can play well or not. Always you need to make a decision and I think it was the right decision. But maybe when you lose it's not the right decision, and you understand this is the game.
"I don't think it was a gamble to change the goalkeeper. Michel Vorm deserved to play and I think it is a competition, and it was a good opportunity for him. We need to show respect to the players."
The manager admitted his disappointment with the final result but was happy with the team performance. "I think we deserved more and we should take lots of positive things. It is true our supporters and us are very disappointed. Always you want to win and when you play against a sworn enemy you want to win more," he said. "But this is football. We need to be happy in the way that we played, but feel bad that we lost the game."