As Prime Minister Theresa May travels to the United States to meet President Donald Trump for the first time on Thursday (26 January), she will aim to make the "special relationship" between the two nations great again.
The historic bond between the countries has been a staple of Anglo-American politics for decades — starting with Winston Churchill and Franklin Roosevelt, heating up between Margaret Thatcher and Ronald Reagan and going up another notch between Blair and Bush – but the "special relationship" seemed to have died down between David Cameron and Barack Obama.
As May becomes the first world leader to meet with Trump since his inauguration, she will say the surprise results of Brexit and the US election will give Britain and America the opportunity to "lead together again".
According to leaked transcripts of a speech May will give to Republicans in Philadelphia, she is expected to lay on lavish praise for her American counterpart.
She will also appeal to "renew the special relationship for this new age".
"The leadership provided by our two countries through the special relationship has done more than win wars and overcome adversity. It made the modern world," May will say, reported the Times.
"The institutions upon which that world relies were so often conceived or inspired by our two nations working together.
"It is through our actions over many years, working together to defeat evil or to open up the world, that we have been able to fulfil the promise of those who first spoke of the special nature of the relationship between us.
"The promise of freedom, liberty and the rights of man."
Her words come a year after the prime minister described Trump's campaign rhetoric as "divisive, unhelpful and wrong".
They also come as Trump signed an executive order to initiate building a wall along the Mexico border.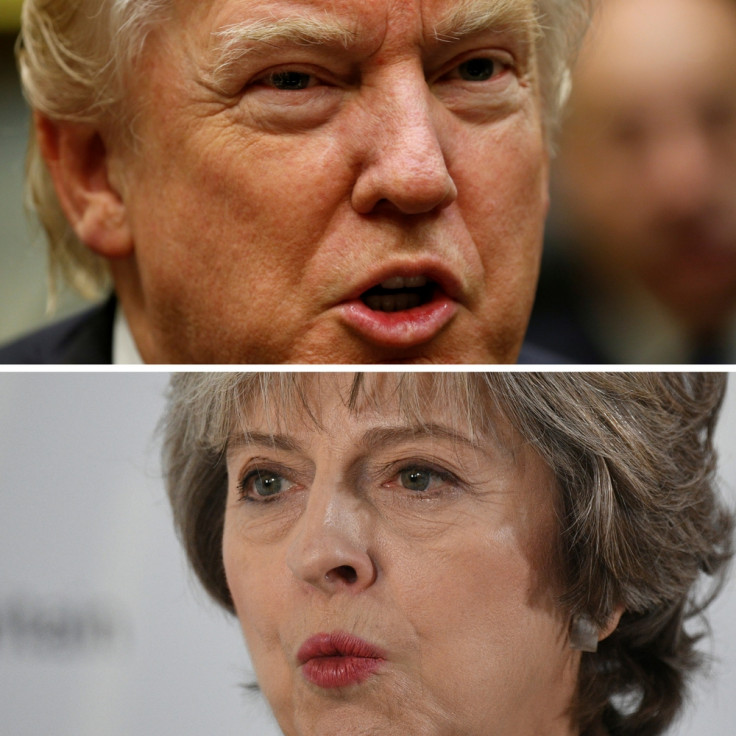 But May is expected to skirt around the issue and instead discuss trade, Syria, counter-terrorism and Nato.
As Britain's first female leader since Margaret Thatcher, May has also been questioned as to whether she would challenge Trump on his past use of lewd language against women and recent attacks on women's health.
However, May said she would not discuss Trump's domestic policy issues and would only challenge Trump if something unacceptable were to happen in her presence.
On her US trip, May will also reportedly look to cement a "special relationship" with First Lady Melania Trump.
According to The Mirror, the prime minister will present the First Lady with a quintessentially British hamper filled with apple juice, marmalade, damson jam and Bakewell tarts.