Labour's new leader will address hundreds of anti-nuclear activists at a Campaign for Nuclear Disarmament (CND) rally, but the media will be blocked from entering the conference, IBTimes UK has learned. The group's spokesman explained that Corbyn's speech had been moved from Sunday 18 October to 17 October, and media would only be granted access to the second day of the rally.
The CND billed the debate as the "first big public discussion on Trident since an anti-nuclear campaigner was elected leader of the Labour Party". But for unknown reasons Corbyn pulled out of the Sunday session. "He's attending a private reception – that's all there is to it," a spokesman for Corbyn told IBTimes UK.
A CND official said it "had always been" the case that Sunday's session was open to the public, including media, whereas Saturday was only for members of the organisation. "There's nothing secretive about his appearance, it's just the nature of the annual general meeting," the spokesman added.
Up to 300 people are expected to attend the sold out event at the Arlington Conference Centre in London. Corbyn was originally booked to take part in a discussion called "Scrapping Trident: how far have we got?" alongside Green deputy leader Amelia Womack and Stop the Wat Coalition's Lindsey German.
Trident opposition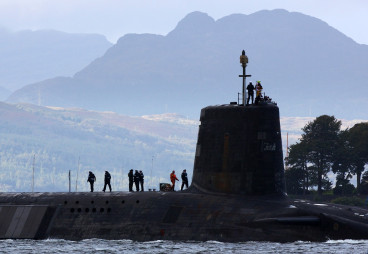 The news comes as Corbyn, who is a vice-chairman of the CND, faces opposition within his own party over his anti-Trident position. His shadow foreign secretary Hillary Benn has claimed Labour would support the nuclear defence system and the issue was kicked into the long grass at the party's annual conference in Brighton.
But the issue, which threatens to cause substantial rifts inside Corbyn's party, could re-emerge sooner than Labour would like after the anti-Trident SNP promised to hold a vote on the deterrent in the House of Commons.
"Can I just say to Jeremy Corbyn that one U-turn that he can't consider is ditching his principled career-long opposition to Trident," said Westminster leader Angus Robertson, according to The Herald.
"Labour weren't prepared to have a specific debate on Trident at their conference. I am pleased that the SNP is debating it here at our conference. I'm also happy to help Corbyn and ensure that there is an early debate and vote at Westminster aimed at opposing Trident renewal.
"Hopefully Jeremy will join the SNP in the lobbies as he has often done in the past in opposing Trident, although I am not holding my breath that he can bring his colleagues in the Parliamentary Labour Party with him."