Labour Trident vote: Shadow cabinet and unions oppose Jeremy Corbyn's plan to scrap UK nuclear deterrent
Jeremy Corbyn has accepted there could be a split in his shadow cabinet and amongst wider Labour ranks over the renewal of Trident as the party ruled out voting on the controversial issue at its conference in Brighton. The newly elected leader of the opposition wants to scrap the UK's nuclear weapons system and divert the money towards public services instead.
The Unite union said earlier on Sunday that it would vote against an anti-Trident motion, adding its voice to a number of Labour MPs who are expected to defy Corbyn and back replacing the missile defence. Labour sources have since said Trident is off the table this week and there will be no debate or vote on a party motion.
Corbyn is facing opposition from within the shadow cabinet and people who backed his leadership campaign over Trident and said he expected division's in his party over Trident. Speaking on the Andrew Marr show on Sunday, 27 September, Corbyn said he welcomed a difference in opinion within his own party.
"There may end up being a difference of opinion. Is it so disastrous that politics has two opinions?" Corbyn said. "I will do my persuasive best to bring them around to my point of view. Watch this space."
MPs are due to vote on Trident next year and deputy Labour leader Tom Watson, who supports renewing the deterrent, said the party's benches will probably be given a free vote on the issue.
What is Trident?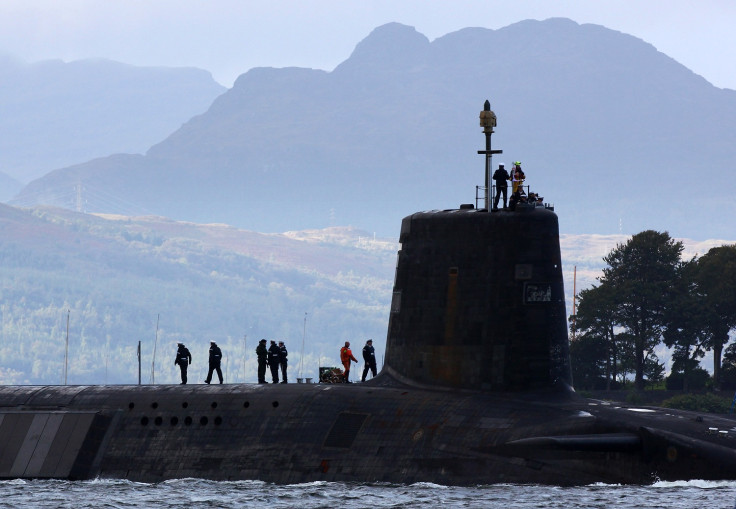 Trident is the name given to the UK's fleet of nuclear submarines that carry – and would launch – the nation's nuclear arsenal. The fleet consists of four Vanguard-class submarines capable of carrying 16 Trident II D-5 ballistic missiles that give the programme its name. Based in Clyde, Scotland, at least one submarine is always deployed while the others undergo maintenance and take part in training exercises.
If MPs vote to renew the fleet it would be ready for service in 2028. The government puts the cost of replacing Trident at £20bn but critics say it is much higher than that. That is one of the reasons why Trident is a political hot potato, the other being jobs. About 6,700 military military staff and civilian workers are based at HM Naval Base Clyde.
Corbyn's comments came after shadow foreign secretary Hilary Benn said on the same show last week that the party would defy its leader to back renewal.
"My view is that we need to maintain an independent nuclear deterrent. I share with Jeremy the wish to see a world which is free of nuclear weapons, but I don't believe for one second that if Britain were to give up its deterrent any other of the nuclear states would give theirs up," he said.
Benn has now been removed from Labour's National Executive Committee – the party's governing body. He was serving on the NEC at the pleasure of Corbyn.
Lonely voice
Corbyn was the only leadership candidate during the summer campaign to say he would mothball the nuclear programme. Andy Burnham, Yvette Cooper and Liz Kendall all backed renewing the weapons system.
During a speech at an event organised by the think-tank Demos, Chuka Umunna rejected the idea of a free vote on Trident. He called for "settled positions" in the wake of Labour's election defeat in May on issues so that people "know what it is they are voting for".
Unions for Trident
Ahead of the party conference in Brighton, Len McCluskey, general secretary of Unite, Labour's biggest donor and one of the unions which supported Corbyn's leadership election campaign, said the union will vote to keep Trident.
"I understand the moral case and the huge cost of replacing Trident, especially in this era of austerity, but the most important thing for us is jobs and the defence of communities. We will vote against any anti-Trident motion. I don't think this will be a problem for Jeremy Corbyn."
Channel 4 news has also reported that "the GMB and other leading unions" will also vote against scrapping Trident, dooming any anti-Trident motion to failure.
Shadow justice secretary Lord Falconer said he favoured a debate on replacing Trident, but admitted on World at One that "I think it unlikely, to be honest" that Corbyn could persuade enough of his party to vote against the motion.
© Copyright IBTimes 2023. All rights reserved.