Abdelrahman Shaalan who goes by the ring name of Osunaarashi, (which translates into Great Sandstorm in Japanese) has become the first Arab and muslim to compete as a professional sumo wrestler in Japan.
The 22-year-old is also the first Egyptian and African to achieve the feat. At the begining, Shaalan was a big, muscular Egyptian teenager passionate about body-building, but despite a friend's recommendation to try the ancient Japanese sport of Sumo wrestling, he hesitated initially.
Shaalan described sumo wrestling before his conversion: "This sport is about two elephants pushing each other. I'm a body builder, man. It's so ugly for me, I will never do it."
He started body-building at 11 and was 14 when he was persuaded to try the sport after getting inspired by an iconic sumo move. Shaalan finally took up the sport as a professional after winning several international amateur tournaments in 2011.
What followed on was months of exhausting training and adapting to Japanese traditions and communal life, including cleaning toilets and preparing meals at his Ootake stable in Tokyo.
Shaalan was initially in charge of cleaning the sumo stable toilets. A sumo stable is a place where the wrestlers work out and live.
"There's a big difference in the culture and the lifestyle, but because I have a dream so whatever lifestyle, whatever problem I face, I don't care. I just care about my dream and how to reach it," said Shaalan.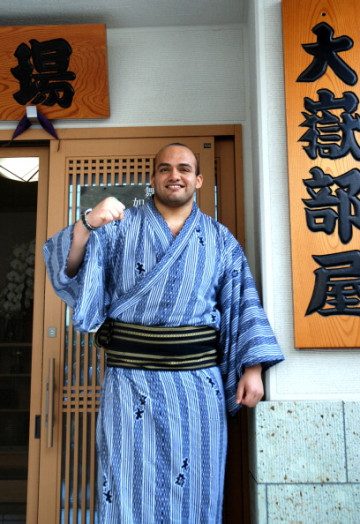 Despite being an outsider, Shaalan stands proud of his heritage and does not indulge in the deep fried pork cutlets, beer or rice wine stake diet that sumo wrestlers live on to bulk up.
Sumo wrestlers usually down protein-laden and huge meals followed by naps.
He also observed his fasts during the Holy month of Ramadan even when competing in a tournament, which meant he was tackling wrestlers whose weight averaged 150kgs (330 Ibs) in temperatures up to 33 C(91 F), according to Reuters.
"The food was not a problem, but water was. It was the hardest part," said Shaalan in a rare interview with Reuters at his sumo stable.
He lost around 5kgs after fasting during Ramadan from his 156 kg, 1.88-metre (6 feet 2 inch) frame.
Shaalan's ultimate goal is to become a Yokozuna grand champion and he dreams of holding the Emperor's Cup. He has fallen one match short of a winning record but is determined to keep trying.
"I have to make my parents, my family, my country proud of me," said Shaalan. "I have to prove (myself) to the people who said, 'We don't need you.'"