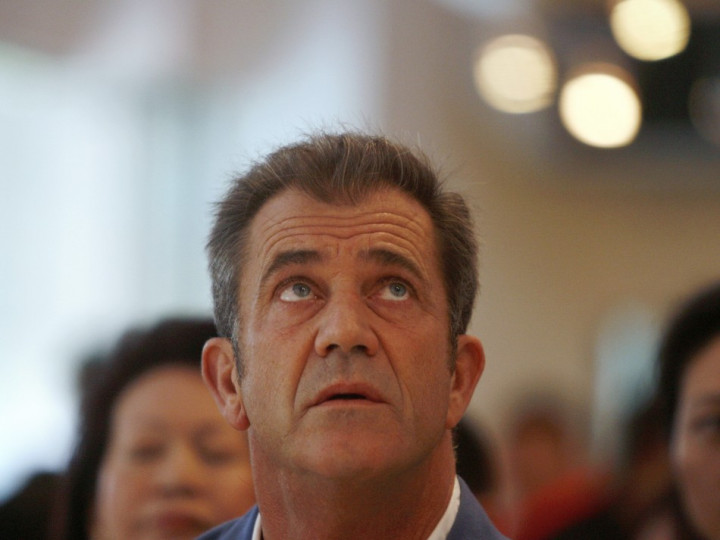 Mel Gibson had his fair share of bad press over the last few years, but a letter sent by disgruntled screenwriter Joe Eszterhas, claiming he "hates Jews", still has the power to shock.
Gibson has been struggling to repair his shattered public image following a very public meltdown in 2006, when he was arrested for driving under the influence of alcohol and is alleged to have called the female arresting officer "sugart*ts" and claimed Jews were "responsible for all the wars in the world".
The drunken outburst followed widespread accusations of anti-Semitism for his portrayal of Jews in the 2004 film The Passion of the Christ and made Gibson, an outspoken and staunch Catholic, a toxic presence in Hollywood.
Every time Gibson's star appeared to be on the rise again, with the success of his directorial effort Apocalypto and praise for his performance in the 2010 film Edge of Darkness, it appeared that controversy was just around the corner.
Gibson again found himself on the front covers of the newspapers during his very public split with girlfriend Oksana Grigorieva, which saw her file a restraining order amid allegations of domestic violence and release recordings that appeared to show Gibson using racist language.
After all of this, the nine-page letter written by Eszterhas, the writer of Basic Instinct, which paints a picture of Gibson as anti-Semitic, aggressive and intimidating, could be the nail in the coffin of Gibson's career, which failed to reignite in 2011 with The Beaver.
Eszterhas claims Gibson's personality and outbursts sabotaged the development of his script for The Maccabees, a film about Jewish hero Judah Maccabee, which Gibson is attached to direct.
He alleged that Gibson never intended to shoot the film, which represented nothing more than a smokescreen to protect him from ongoing allegations of anti-Semitism.
Some extracts from Eszterhas's letter, which is printed in full at The Wrap:
"Let me remind you of some of the things you said that appalled me. You continually called the Jews 'Hebes' and 'oven-dodgers' and 'Jewboys'. It seemed that most times when we discussed someone you asked, 'He's a Hebe, isn't he?' or 'Is he a Hebe?' You said most 'gatekeepers' of American companies were 'Hebes' who controlled their bosses."
"You said that a 'liberal Jewish conspiracy' was responsible for the death of Pope John Paul I, Albino Luciani, a conspiracy which your father, Hutton, told me was completed when a cardinal sat on the Pope's face and suffocated him."
""What I really want to do with this movie,' you said, 'is to convert the Jews to Christianity.'"
"About John Lennon: 'I'm glad he's dead. He deserved to be shot. He was f*****g messianic. Listen to his songs! Imagine. I hate that f*****g song. I'm glad he's dead.' About Walter Cronkite: 'I hate him! He appeals to stupid people!' About Ari Emanuel, the head of WME [talent agency]: 'He's a c**t Jewboy!'"
"In the very beginning of our relationship, I watched you assisting the priest at mass in your little church in Agoura Hills; Mel Gibson as the altar boy, genuflecting, bowing, your hands clasped in prayer.
"I have that image in my head today, and I wonder what happened. How did you go from The Passion and the altar boy to screaming obscenities to God into the night?"
Gibson replied to Eszterhas with a significantly shorter letter on the entertainment website Deadline, dismissing his claims as "utter fabrications" brought about by Eszterhas's discontent over his script being dropped.
"I would have thought that a man of principle, as you purport to be, would have withdrawn from the project regardless of the money if you truly believed me to be the person you describe in your letter. I guess you only had a problem with me after Warner Brothers rejected your script."
He claimed that he had been planning to make a Maccabees film for 10 years and would look to continue with the project.
Despite his name being dragged through the mud so regularly, Gibson has never been one to shy away from fighting his corner, or holding his hands up when he is in the wrong. In an interview following the release of the alleged racist language, he claimed he had been edited to sound racist.
He told Deadline: "You have to put it all in the context of being in an irrationally, heated discussion at the height of a breakdown, trying to get out of a really unhealthy relationship. It's one terribly, awful moment in time, said to one person, in the span of one day and doesn't represent what I truly believe or how I've treated people my entire life."
His confident response to Eszterhas suggests this is not an occasion where Gibson will hold his hands up, nor one where he feels the need to do so. Whether the film-going audience shares that confidence is another matter.