Melrose Resources, the oil and gas exploration, development and production company remains on track to achieve its target to reduce financial gearing to below 60 per cent by this year-end.
The group wishes to start the new financial year with commencement of the exploration work programme on its new blocks in offshore Romania and will be evaluating the central area of the Galata Block in Bulgaria. It is expected to release its final results for the period ended 31 December 2011 on Wednesday.
Melrose reported its revenues for the first half of 2011 at $156 million, up from $110 million in 2010. Profit before taxation increased to $61.8 million compared to $26.2 million for the period ended 30 June 2010, equating to increased earnings of 28.9 cents per share, up from 3.5 cents in the previous year.
The net production volumes from Bulgaria and Egypt last year, combined with the strong commodity prices, have positioned Melrose well to deliver good financial results. The group expects similar progress for the new financial year as well with the benefit of increased gas prices in Bulgaria.
The capital expenditure forecast for the FY 2011 has been reduced from $87 million to $78 million, of which approximately 40 per cent relates to exploration seismic, drilling activity and the rest to field development work programmes.
While commenting on exploration programmes, CEO David Thomas said: "Melrose has continued to generate strong cash flow during the third quarter and we remain on track to deliver our financial targets for 2011. We are looking forward to pursuing an active exploration and development work programme in 2012 and, in particular, to commence the company's first exploration operations in Romania in the first half of the year."
Revenue generation in Bulgaria remains robust and in Egypt, EGPC have committed to increase Melrose's oil and gas sales receipts in the fourth quarter when compared to the third quarter. The group has continued to maintain steady operations in Egypt during the year, unaffected by the current political unrest.
The group is currently drilling a well in Turkey and later this year it should be in receipt of the results of the new seismic interpretation for its Mesaha and Rhone Maritime exploration concessions. It will also be drilling its first well to test the Cretaceous oil play in the Egyptian Nile Delta. The performance of its existing producing assets are supporting the future outlook of the group, though it is also maintaining a cautious approach to reservoir management. Based on the current forecasts, the company has reduced 2011 production guidance to 36.0 Mboepd.
Melrose Resources is focusing on assets in both the exploration and development phase of the asset lifecycle, driven by the growth opportunities in its existing portfolio and strong financial position. It is also evaluating a number of opportunities in its existing areas of operations and also in some new countries which present an attractive combination of good hydrocarbon fundamentals, competitive fiscal terms and sound operating environments.
Below is a summary of sector comparisons in terms of price earnings, earnings per share, dividend per share, dividend yields, return on equity and price-to-book ratio. The table explains how the company is performing against its peers/competitors in the sector. The table below represents top ten companies based on market capitalisation.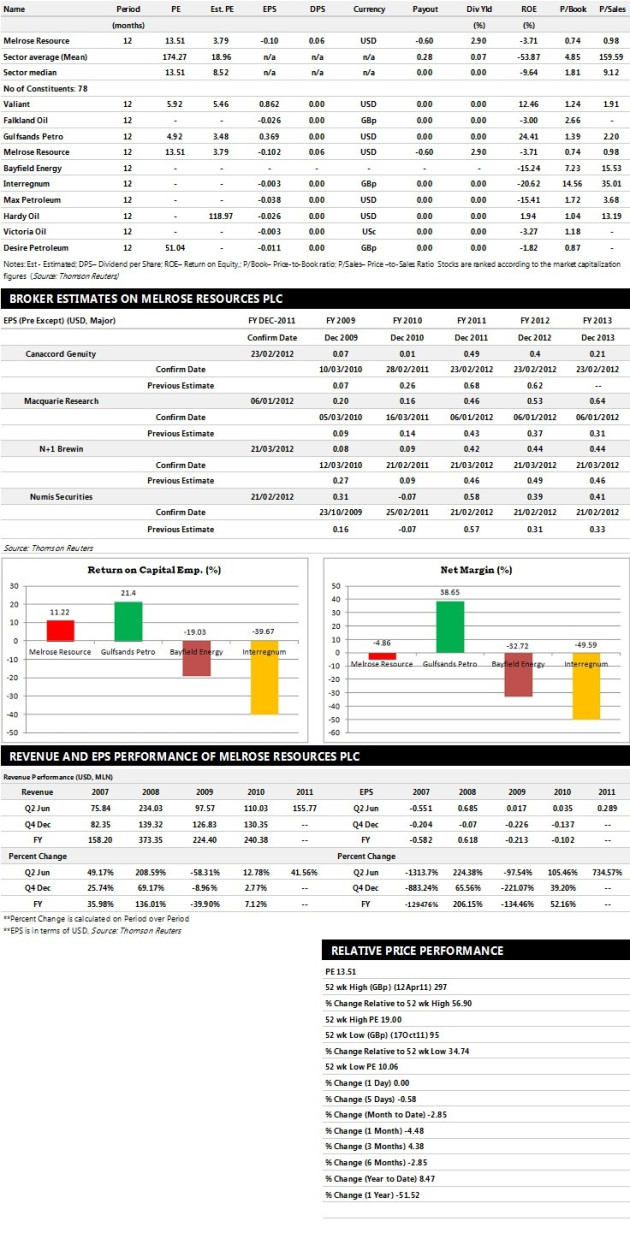 Brokers' Views:

- Canaccord Genuity cuts price target to 144 pence per share from 162 pence
- N+1 Brewin assigns 'Buy' rating
- Numis Securities gives 'Hold' rating
Earnings Outlook:

- N+1 Brewin estimates the company to report revenues of $281.80 million and $273.90 million for the FY 2011 and FY 2012 respectively with pre-tax profits (pre-except) of $111.60 million and $104.50 million. Earnings per share are projected at 42 cents for FY 2011 and 44.3 cents for FY 2012.
- Canaccord Genuity projects the company to record revenues of $312.30 million for the FY 2011 and $266.24 million for the FY 2012 with pre-tax profits (pre-except) of $109.70 million and $59.41 million respectively. Profit per share is estimated at 49 cents and 40 cents for the same periods.
- Numis Securities expects Melrose Resources to earn revenues of $310 million for the FY 2011 and $274 million for the FY 2012 with pre-tax profits of $125 million and $96 million respectively. EPS is projected at 58 cents for FY 2011 and 39 cents for FY 2012.