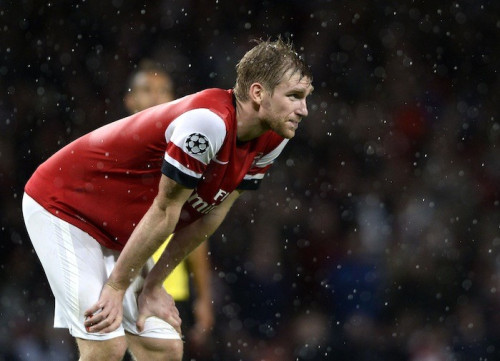 Arsenal defender Per Mertesacker has promised fans that they won't see a repeat of their display against Liverpool in the near future.
The Gunners lost their game at Anfield 5-1, conceding four goals in the opening 18 minutes and relinquished their lead at the top of the table. The thrashing has raised questions about their ability to put in a concerted challenge for the title, with Chelsea starting to gain momentum after their 1-0 win over Manchester City at the Etihad.
This is the first time in over two years that the defensive partnership of Laurent Koscielny and Mertesacker have lost a game where they completed 90 minutes and the pair have to get back to their best if they have to challenge for the title.
The Gunners have led the table for most of the season but it remains to be seen if they can recover their mental strength in the business end of the seasoun and end their eight season trophy drought.
"To be honest, it's one of the worst setbacks of this season. We feel very bad at the moment, disappointed with our performance right from the start. It was just not good enough to compete at that level. Liverpool seemed full of confidence. At the start we were eight points clear of Liverpool so we should have been more confident and more aware of the situation but that wasn't the case," Mertesacker said.
The Gunners will face Manchester United on Wednesday and will host Liverpool at the Emirates in the fifth round of the FA Cup on Sunday as they look for redemption after a harrowing week for the north London club.
"We have the opportunity to respond quickly on Wednesday and we have to remind ourselves what we have done from Man City until now. That is at stake and to show that responsibility for ourselves and for the pride of our club. We have huge games coming up but we can rely on our fans that they will push us again. I think the team will give something back in the next couple of weeks," he concluded.