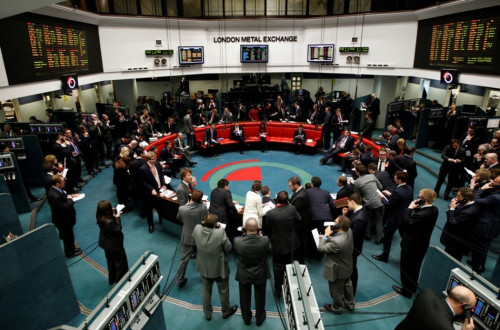 The rate of increase in metal warehousing charges has been lowered, as the London Metal Exchange is keen to implement its proposed changes to smoothen the functioning of the world's largest marketplace for metals after criticism over metal hoarding.
Earlier this year, the LME proposed new rules to cut waiting times at its global network of metal exchanges. It said it would slash waiting times down to 50 days, after regulatory pressure for the industry to review its metal storage practices.
It had also commenced a legal review of what steps it can take on high storage charges.
Meanwhile, the warehouses lowered their rent hikes significantly, after the LME urged them to do so. Warehousing companies, mainly large banks and metal traders, will increase rent charges by an average of 3% in April, compared to a 7% increase last year.
"The LME is grateful to those warehouse operators that respected the call for restraint in setting their charges for the forthcoming period," the exchange said in a statement.
The exchange also released a notice indicating the maximum rent levels for metals depending on the metal type and location.
Metal Hoarding
The LME was under regulatory and legal pressure to reform its policies in overseeing the global network of metal warehouses, where consumers collect metal bought through the exchange.
US banks that operate metal exchanges such as Goldman Sachs and JP Morgan and the LME was sued in the US for intentionally limiting aluminium supplies and driving up the metal's prices.
Delays of as long as 16 months in executing orders raised prices for makers of beverages, flashlights, outdoor porch screens, and other products that need aluminium, according to the complaints.
LME aluminium buyers are required to pay a premium on the wholesale price of the metal to secure orders. This has risen by more than 150% since 2010 as stockpiles in warehouses rocketed to a record 5.5 million tonnes.
High aluminium prices have hit a number of industries, such as the drinks business, where consumers ultimately pay more for canned drinks whenever the cost of the metal creeps up.
The US Commodity Futures Trading Commission (CFTC) subpoenaed Glencore and Goldman Sachs over the allegations.
New reforms at the LME comes as Hong Kong Exchanges and Clearing Ltd, which bought the LME last year, is looking to restore confidence among traders, producers and consumers who use the LME's prices.