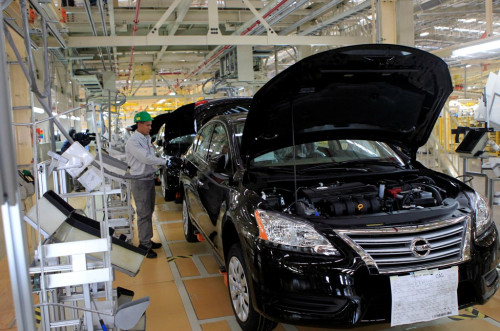 Mexico is poised to surpass Japan and become the second-largest auto exporter to the US this year, and could top Canada as the largest exporter of cars to the world's leading economy in 2015.
Mexican auto exports to the US are expected to hit 1.69 million this year, topping the 1.51 million Japanese-made cars that would find their way into America, estimated IHS Automotive.
By 2015, Mexican exports may climb to 1.9 million, topping Canada's 1.87 million, IHS Automotive analyst Guido Vildozo told Bloomberg.
Companies building cars in Mexico are taking advantage of factory quality comparable to the US, said David Sargent, global automotive vice president at J.D. Power & Associates.
Mexico also boasts of labour costs at 20% of US levels and trade deals spanning over 40 countries, said Luis Lozano, lead automotive partner at PricewaterhouseCoopers in Mexico City.
"Passing Japan as a US supplier has been in the works for quite some time, particularly since the Mexican plant announcements a few years back," Vildozo said. "It looks like there's a possibility Mexico may pass Canada next year."
"It's almost as sure a thing as you can get that Mexico is going to export more vehicles to the US market than Japan will this year. The only thing that could throw a wrench into that is the yen," Dennis DesRosiers, president of DesRosiers Automotive Consultants, told the news agency.
Peso Advantage
Mexico is also the leading foreign supplier of auto parts to the US.
A weaker currency has helped Mexico attract global automakers after Canadian operations became more expensive.
The Japanese yen gained 1.8% against the US dollar in the 10 years to December 2013, while the Canadian dollar rose 22% against the greenback.
However Mexico's peso slid 14% over the same period, extending its advantage.
Mexican auto exports to America more than quadrupled from 1993 to 2013 as output almost tripled, supported by lower tariffs under the North American Free Trade Agreement (Nafta).