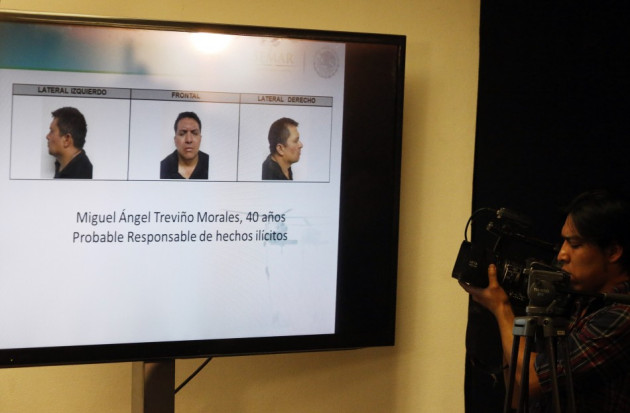 Mexican marines have captured the leader of the brutal Zetas drug cartel during an early morning raid, said officials.
Miguel Angel Trevino Morales, nicknamed Z-40, was apprehended by Mexican authorities in his hometown of Nuevo Laredo. The town located near the US border is also the heartland of the gang.
Government spokesperson Eduardo Sanchez told reporters Trevino was arrested when the authorities intercepted a truck, which was carrying several weapons and $2m (£1.32m) in cash.
He was accompanied by his bodyguard and an accountant in the truck, when it was intercepted by the marines' helicopter.
No shots were fired during the operation, said the spokesperson.
"It [the helicopter] made a manoeuvre that resulted in the truck stopping, and three people in the truck were apprehended by personnel on the ground who came to support the navy, which had made the detention using the helicopter," said Sanchez.
The capture of the 40-year old is being seen as a significant victory for Mexican authorities as they continue to fight against powerful drug-trafficking groups in the country.
This is the highest-ranking arrest in Mexico since Enrique Pena Nieto took over as president in December 2012.
The spokesperson declined to comment on Washington's role in the operation, however information from American agencies proves vital in high-profile arrests in Mexico.
Mexico had been offering nearly $2.4m, and the US $5m, for any information leading to Trevino's arrest.
"Credit goes to the Mexican government for this. It is a very big get. We work well with these guys and congratulate them," said a senior state department official in the US.
Trevino Morales faces charges of murder, torture and other organised crimes both in the US and Mexico.
He became the leader of one of the most powerful drug cartels in October last year, after the death of Zetas kingpin Heriberto Lazcano.
The group has carried out some of the bloodiest massacres in Mexico. Their organised crime has also spread to other countries, including the US.
The Zetas, originally formed by defectors from an elite army unit, quickly became famous for their public execution of kidnapped victims and rival gang members.
It is unclear who will succeed Trevino Morales as the leader of Zetas.