'This is perfect b******t': Anderson Silva threatens UFC with retirement
Silva is not happy that he is yet to be given an ideal opponent for UFC 212.
Anderson Silva has given the UFC an ultimatum to either hand him an interim middleweight title fight against Yoel Romero or risk losing him to retirement.
The 42-year-old MMA legend was scheduled to fight Kelvin Gastelum at UFC 212 on 3 June in his home country of Brazil. However, the latter was pulled for potentially testing positive for marijuana metabolites.
With Silva having no opponent for the event, he recently earmarked Nick Diaz and Romero as potential matchups for Rio de Janeiro but nothing has come to fruition as of yet, leaving the former middleweight champion frustrated.
Romero, the number one middleweight contender, was originally supposed to face champion Michael Bisping for the title. But with the Briton scheduled to face Georges St-Pierre, Romero was also left without an opponent.
The Cuban then proposed an interim title fight with Silva, but the UFC appeared to have other ideas.
"The guys no give this fight for me for the interim belt, I'm done," Silva said, as quoted on The MMA Hour. "I'll go be with my family. I'm done."
"I say, 'OK, I go fight Yoel Romero. Because I know I respect Yoel Romero, he's a great fighter. He's No. 1 in the ranks. But one thing — why Yoel Romero come to Brazil for fight me for nothing?"
Romero, who called in to The MMA Hour as well, agreed with "The Spider", stating that they would only fight if an interim title was on the line.
"I fight only with Anderson for the interim belt," he said. "If not for him, I wait for my time for the belt."
Silva is also frustrated that all his training can go in vain if he is not given an opponent for UFC 212, meaning he could miss out on fighting in Brazil for the second time.
"I stayed here for a long time for training," he added. "This is not my fault for Gastelum to go out of the fight. This is not my problem. My problem is training hard for fight in Brazil for my fans. What happens to my fans now? What happens to the people who paid to see my fight in Brazil. This is the second time this happened. I'm tired of this."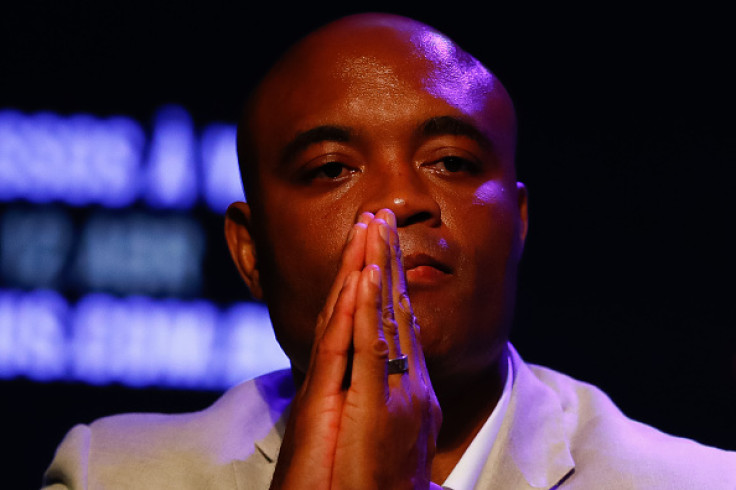 "This is perfect b******t. I'm tired. I'm so tired. I'm respectful long time. Everything, I never talk about bad situations in UFC. I think I'm done. I fight for long time in my life. And I'm tired, bro. I'm so upset.
"I have my legacy, I have my story. It's very frustrating, because this is the second time I'm not fighting in my country."
© Copyright IBTimes 2023. All rights reserved.